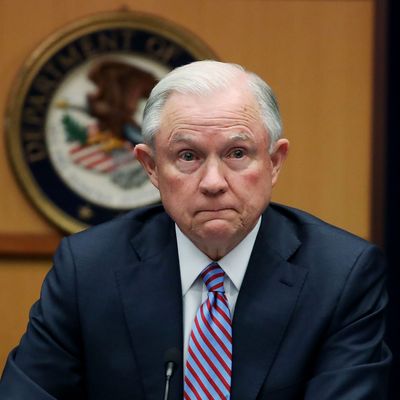 Jefferson Beauregard Sessions III.
Photo: Mark Wilson/Getty Images
In an interview with a conservative radio host Tuesday, Attorney General Jeff Sessions went out of his way to insult the entire state of Hawaii by suggesting it's not a real part of the the United States.
While speaking to host Mark Levin, Sessions brought up President Trump's travel ban, which was blocked last month by Federal District Judge Derrick Watson of Honolulu. "I really am amazed that a judge sitting on an island in the Pacific can issue an order that stops the president of the United States from what appears to be clearly his statutory and Constitutional power," he said. CNN's KFILE has the recording if you'd like to hear it in Sessions's syrupy accent.
Reducing one of the 50 states to "an island in the Pacific" is not sitting well with people on that island, including its two senators.
The thinly veiled racism of Sessions's statement is only part of what makes it dumb. There's also the obvious fact that the state in which Watson was sitting when he ruled on the case has nothing to do with his judgment of its constitutionality. And, as others have pointed out, there is the irony of Sessions diminishing the standing of another state when Alabama, his home state, fought in a war to leave the U.S. altogether.