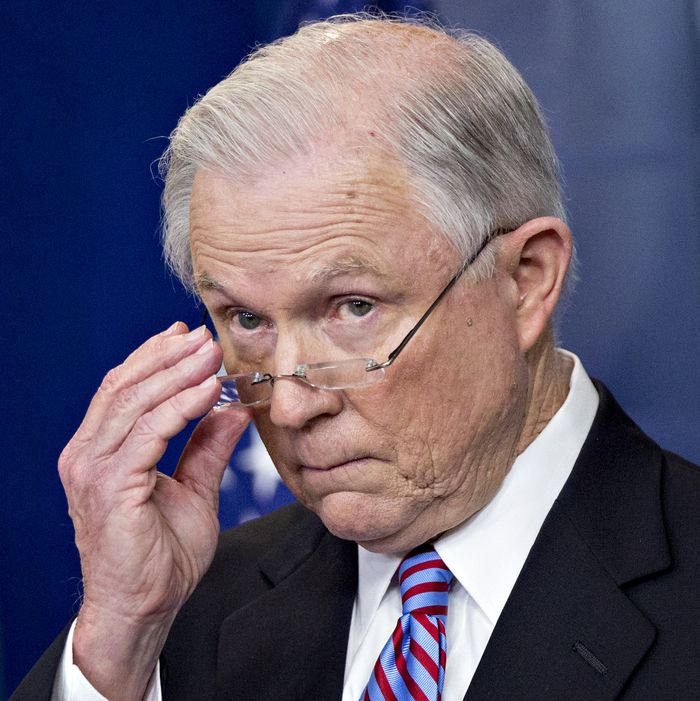 Sessions didn't read the DOJ's scathing reports on the departments, but he's pretty sure they're overblown.
Photo: Andrew Harrer/Bloomberg via Getty Images
Under President Obama, the Justice Department opened investigations into more than two dozen police departments, and worked out formal reform agreements — known as consent decrees — with 14 departments.
On Monday, Attorney General Jeff Sessions took the first steps toward undoing those reforms, ordering his his staff to review all "existing or contemplated" reform agreements nationwide. In a two-page memorandum dated March 31, Sessions lists the Trump administration's law enforcement principles, and says all of the Justice Department activities should be reviewed to ensure that they comply.
In addition to promoting public safety and protecting civil rights, these tenets include promoting "officer safety, officer morale, and public respect for their work" and keeping the "misdeeds of individual bad actors" from undermining the "legitimate and honorable work" done by law enforcement.
"Local control and local accountability are necessary for effective local policing," Sessions writes. "It is not the responsibility of the federal government to manage non-federal law enforcement agencies."
The Obama administration took the opposite view. As a result of the outrage over the 1991 beating of Rodney King, Congress gave the federal government the power to investigate police departments for civil rights abuses in 1994. The Obama administration used that power more aggressively than previous administrations, entering into about four times as many consent decrees as the Bush administration.
Sessions could not unilaterally scrap the reform agreements that are already in place, according to the New York Times, but it's unclear what this means for agreements that have yet to be finalized. On Monday, Justice Department lawyers went to court to request a 90-day delay on a consent decree reached with the Baltimore Police Department just before President Trump's inauguration. The agreement has yet to be approved by a judge.
The Baltimore agreement stems from the 2015 death of Freddie Gray while in police custody. In August, a Justice Department report said their investigation found a "pattern and practice" of discrimination against black residents by police. While Gene Ryan, the head of the local police union in Baltimore, supports the delay, Baltimore Mayor Catherine Pugh and Police Commissioner Kevin Davis said it could undermine the progress they've made. "Any interruption in moving forward may have the effect of eroding the trust that we are working hard to establish," Pugh said.
The delay also puts efforts to reform the Chicago Police Department in jeopardy. During the final days of the Obama administration, the Justice Department released a scathing report on Chicago police, saying it found evidence of inadequate training, widespread use of excessive force, and bias against blacks and Latinos.
Last month, Sessions dismissed the Justice Department's reports on the police departments in Chicago and Ferguson, Missouri, though he admitted, "I have not read those reports, frankly." He told the Huffington Post that judging from the summaries he had seen, "Some of it was pretty anecdotal, and not so scientifically based."
In a joint statement on Monday night, Mayor Rahm Emanuel and Superintendent Eddie Johnson of the Chicago police said that regardless of Sessions's review, they will continue moving ahead with their efforts to reform the police department.
"The reforms we have made over the past year are built on the principles of partnership and trust between our residents and our officers, and they laid the foundation for the 2017 reform plan we outlined just a few weeks ago," Emanuel and Johnson wrote. "Reform is in our self-interest and that is why Chicago has been, is, and always will be committed to reform."
National Urban League president Marc Morial, the former mayor of New Orleans, told USA Today that if Sessions really wants to be tough on crime, he should take a closer look at how locals view the Justice Department's reform efforts.
"The attorney general is making this decision in a vacuum," Morial said. "There's no indication that he's spoken to mayors or police chiefs or community leaders around the nation. It appears that the only people he's really heard from are the police union officials and I think that's not the way a decision ought to be made. I think that he owes an obligation to the stakeholders in these individual communities to learn more about these consent decrees."