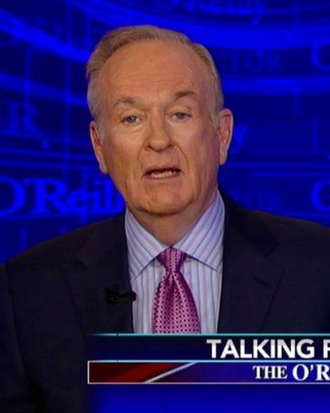 Will have a lot more free time soon.
The Murdochs have decided Bill O'Reilly's 21-year run at Fox News will come to an end. According to sources briefed on the discussions, network executives are preparing to announce O'Reilly's departure before he returns from an Italian vacation on April 24. (Update: Parent company 21st Century Fox announced at 2:30 p.m. on Wednesday that O'Reilly "will not be returning to the Fox News Channel.")
Wednesday morning, according to sources, executives are holding emergency meetings to discuss how they can sever the relationship with the country's highest-rated cable-news host without causing collateral damage to the network. The board of Fox News' parent company, 21st Century Fox, is scheduled to meet on Thursday to discuss the matter.
Sources briefed on the discussions say O'Reilly's exit negotiations are moving quickly. Right now, a key issue on the table is whether he would be allowed to say good-bye to his audience, perhaps the most loyal in all of cable (O'Reilly's ratings have ticked up during the sexual-harassment allegations). Fox executives are leaning against allowing him to have a sign-off, sources say. The other main issue on the table is money. O'Reilly recently signed a new multiyear contract worth more than $20 million per year. When Roger Ailes left Fox News last summer, the Murdochs paid out $40 million, the remainder of his contract.
Here's how O'Reilly told his audience about his "vacation."
According to sources, Fox News wants the transition to be seamless. Executives are currently debating possible replacement hosts. Names that have been discussed include Eric Bolling, Dana Perino, and Tucker Carlson, who would move from his successful 9 p.m. slot and create a need for a new host at that time. One source said Sean Hannity is happy at 10 p.m. and would not want to move. Network executives are hoping to have the new host in place by Monday.
(Update: Fox News announced that Tucker Carlson will be taking over the 8 p.m. slot and The Five will move to 9 p.m., effective Monday. Hannity will retain 10 p.m.)
The Murdochs' decision to dump O'Reilly shocked many Fox News staffers I've spoken to in recent days. Late last week, the feeling inside the company was that Rupert Murdoch would prevail over his son James, who lobbied to jettison the embattled host. It's still unclear exactly how the tide turned. According to one source, Lachlan Murdoch's wife helped convince her husband that O'Reilly needed to go, which moved Lachlan into James's corner. The source added that senior executives at other divisions within the Murdoch empire have complained that if O'Reilly's allegations had happened to anyone else at their companies, that person would be gone already.
Spokespersons for 21st Century Fox and Fox News did not respond to requests for comment, nor did O'Reilly's agent, Carole Cooper.
Here are some of the most remarkably sexist comments O'Reilly has ever made on air.