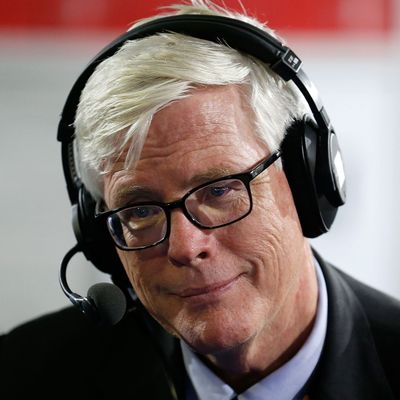 Soon to be a right-wing MSNBC host?
Photo: Kirk Irwin/Getty Images for SiriusXM
MSNBC is in talks with conservative radio host Hugh Hewitt about creating a show for him on weekend evenings, four well-placed sources at the network tell Daily Intelligencer. Initially MSNBC was keen on having Hewitt host a program on weekend mornings, but that idea is off the table because Hewitt wants to be on in the evening, according to two sources. At one point, network management also floated moving Joy-Ann Reid's popular weekend program AM Joy to the afternoon to serve as a lead-in for Hewitt and help jumpstart his ratings, but that plan has seemingly been dropped.
Hewitt is already part of the NBC News family as a paid commentator, but the fact that he's on the verge of getting his own program is alarming to some staffers at MSNBC. Among their concerns is that Hewitt, a dyed-in-the-wool conservative and Trump supporter, doesn't represent the values of the liberal network. While Hewitt flirted with never-Trumpism during the campaign — most notably when then-candidate Trump attacked Mexican-American judge Gonzalo Curiel, and after the infamous Access Hollywood tape was leaked to the Washington Post — he always came back to Trump, and ultimately cast a ballot for him in the November election.
Daily Intelligencer reached out to both MSNBC and Hewitt for comment. At the time of publication, neither had responded.
MSNBC's talks with Hewitt come at a time of increased internal tension at the network. Some staff are worried that NBC News chairman Andy Lack is leading the cable network in a more conservative direction. At an NBC News town hall after the election, Lack said that the organization should be focused on appealing to America's heartland, according to people at the meeting. The remark was widely seen as a directive to, as one source put it, "focus on Trump voters."
Some staffers have inferred a link between Lack's directive and the decision to pull Today's first black woman host, Tamron Hall, off the show to make room for former Fox News host Megyn Kelly. Ultimately, Hall chose to leave both NBC and MSNBC — where she had her own 11 a.m. program — rather than accept a diminished role. Lack also hired former Fox News host Greta Van Susteren and gave her the 6 p.m. slot on MSNBC's weekday schedule. Since Van Susteren's show debuted in January, the ratings have been, by any objective measure, abysmal. In a rare occurrence for that spot, her numbers have actually been lower than those of her lead-in program, Chuck Todd's Meet the Press Daily. Van Susteren's hire was not well-received internally at MSNBC, with Chris Matthews being especially frustrated by the decision, according to two network sources.
Today, Politico's Jake Sherman was the first to report that former John McCain campaign staffer Nicolle Wallace is set to take over the 4 p.m. weekday slot from Steve Kornacki. While Kornacki is well-regarded at MSNBC, Lack has wanted to replace him with a stronger host in that time slot, to offer more competition to CNN's Jake Tapper. Wallace also enjoys a positive reputation internally. But adding another conservative, white host to the schedule — or two more, if the Hewitt deal gets inked — has many at the cable network wondering where they are headed.