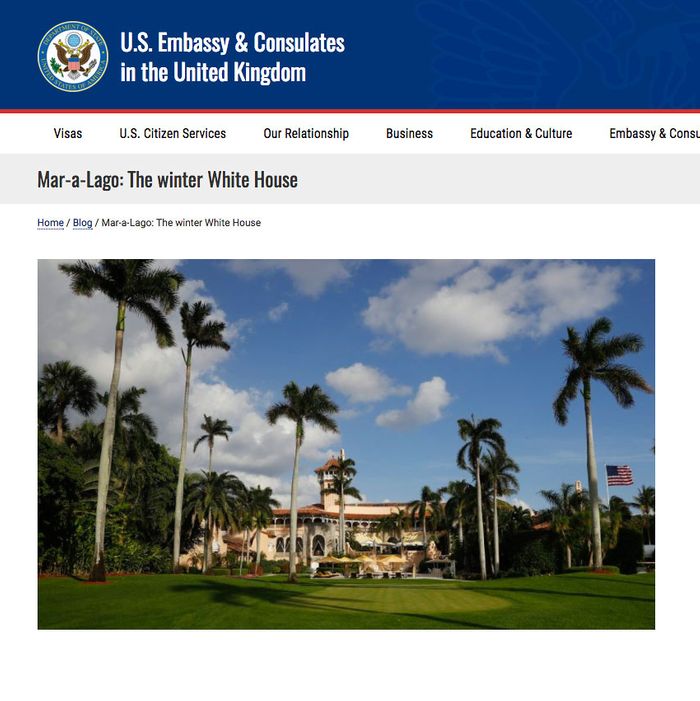 A look at the now-deleted page.
Earlier this month, the State Department added a webpage — specifically, the page could be found on Share.America.gov, a State Department website for the United States abroad, and the website for the United States embassy to the United Kingdom — detailing Mar-a-Lago as the "winter White House." The page highlighted the history of the Florida club, which President Trump purchased in 1985, and quickly drew criticism online for using government resources to seemingly advertise Trump's property and business.
If you click the U.K. embassy page now, all you'll get is an error message. And the Share.America.gov page has been updated with an apology. "The intention of the article was to inform the public about where the President has been hosting world leaders," the page reads now. "We regret any misperception and have removed the post."
Before Trump bought it, Mar-a-Lago — annual membership costs $200,000, a fee that has doubled since Trump's election — was home to cereal heiress Marjorie Merriweather Post. "Post's dream of a winter White House came true with Trump's election in 2016," the Mar-a-Lago page claimed. Which, sure. Trump has used the club a few times thus far for official business. (He has, according to a website devoted to tracking Trump's visit to the club, spent 7 of his 14 weekends as leader of the free world at Mar-a-Lago.) In between rounds and rounds of golf, the president hosted President Xi Jinping from China and Japanese prime minister Shinzo Abe at Mar-a-Lago earlier this year. During the latter visit, Trump dealt with a North Korean missile launch, an event that a number of private citizens were able to photo document via social media. You know the picture I'm talking about. The one where Trump is sitting outside at a dinner at Mar-a-Lago, looking disturbingly chilled out for somebody dealing with a potential missile crisis. This was the same trip where a different person photographed and publicly identified the military personal who carries the "football," or nuclear codes.