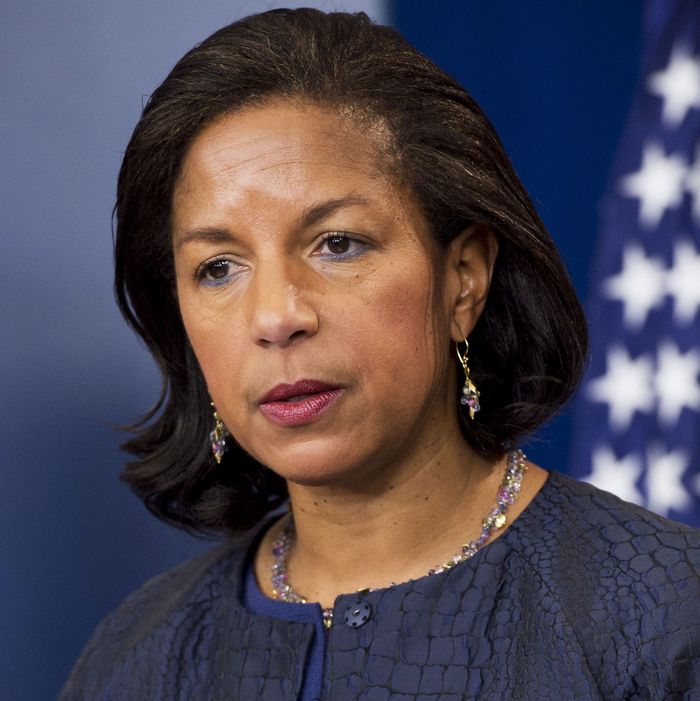 Former national security adviser Susan Rice has replaced shadowy "deep state" operatives as the target of conservatives' claims that Team Trump was spied on by the Obama administration.
Photo: Saul Loeb/AFP/Getty Images
For a good while now, the conservative counter-narrative to the suspicions and allegations involving Donald Trump's circle and various agents of Russia has been that the real story was the surveillance of innocent American citizens — specifically, Trump associates — by the Obama administration, as part of (or even under the guise of) the government investigation of said suspicions and allegations.
Once you got past Donald Trump's own unsubstantiated and much-ridiculed claim that his predecessor had ordered surveillance of Trump Tower, however, the counter-narrative got kind of vague, depending on the argument that "deep state" opponents of Trump in the intelligence community had been trying (and were continuing to try) to sabotage the 45th president before and after his election. Lately, a key element of the case has been that people around Trump were not given their legally due anonymity when they were captured by surveillance efforts directed at foreigners.
But with national security reporter Eli Lake's report yesterday that "former national security adviser Susan Rice requested the identities of U.S. persons in raw intelligence reports on dozens of occasions that connect to the Donald Trump transition and campaign," Trump defenders now have a name and face to attach to their counter-narrative. And it's not some obscure low-level spy, but Barack Obama's chief adviser on all matters relating to national security.
Senator Tom Cotton nicely summarized Rice's utility to Team Trump's claims, and including a resonance with past conservative conspiracy theories:
"Susan Rice is the Typhoid Mary of the Obama administration foreign policy," Cotton said. "Every time something went wrong, she seemed to turn up in the middle of it, whether it was these allegations of improper unmasking, intentional or improper surveillance, whether it's Benghazi or the other fiascos over the eight years of the Obama administration."
Trying to stanch the flow of accusations, Rice granted an interview to Andrea Mitchell today, in which her central point was that the so-called "unmasking" of American names in intelligence reports sent to her and to other top administration officials is (a) fairly routine, and (b) not the same as leaking those names to the news media. She flatly denied claims she distributed the unmasked names within the administration as well.
But unavoidably the takeaway for Trump fans will be that Rice is admitting she requested unmasking of Trump associates, and is now hiding behind "national security" excuses in refusing to discuss the details.
And so the furor on the right will probably continue to mushroom, and all but eliminate the already severely eroded interest in those circles of what was going on with the Russians in the first place.