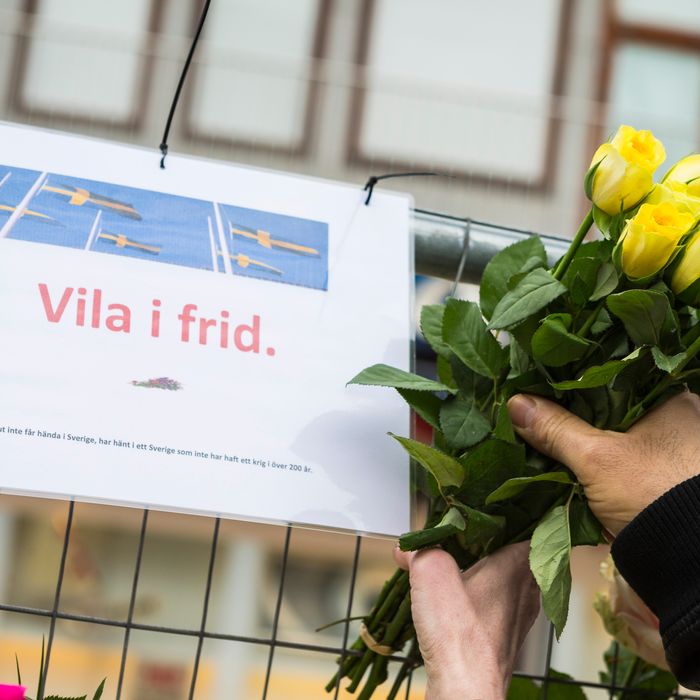 A Stockholm resident places yellow roses next to a sign which reads "rest in peace" at a memorial near the scene of the attack.
Photo: Michael Campanella/Getty Images
A 39-year-old Uzbek man has been arrested in connection with the truck attack in Stockholm on Friday that killed four people on one of the city's major shopping streets. The man, who Swedish authorities believe was the driver of truck, was previously known to the country's national intelligence agency, but had only been considered a "marginal character" and was not being actively monitored, according to Swedish officials. Police also said they found a suspicious device in the passenger seat of the car, though they would not confirm whether or not the device was some kind of bomb, as has been reported in the Swedish media.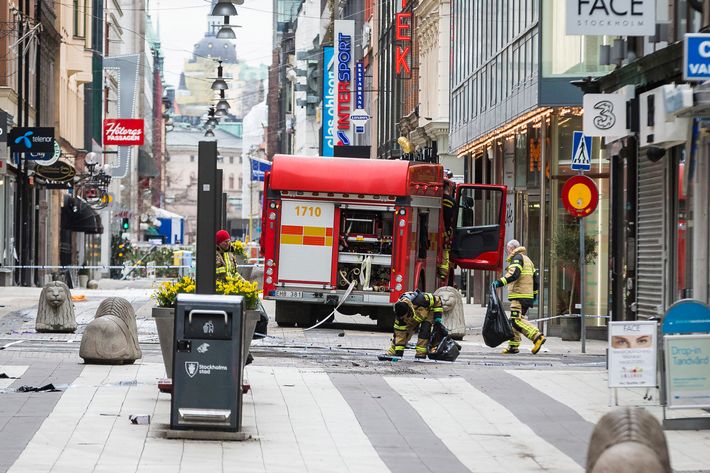 Four people were killed and at least 15 people were injured in the terrorist attack, during which the attacker drove a stolen beer truck into a crowd on the popular Drottninggatan pedestrian street, eventually crashing into the Åhléns department store. Witnesses said that the driver was trying to hit people as he steered. Two people injured in the attack remain in intensive care. The incident was the fifth terrorist attack in Europe over the past year in which an assailant has used a vehicle to ram into a crowd of people.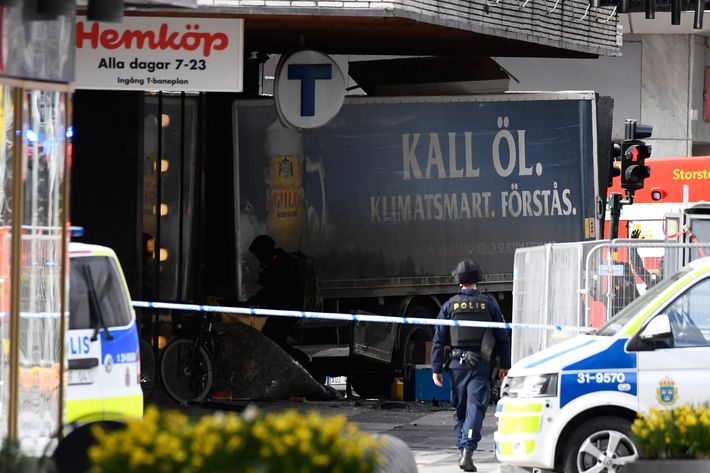 Stockholm was put on lockdown following the attack, shutting down the city's public-transit system. The suspect was eventually apprehended in a suburb north of the city.
Sweden is statistically one of the safest nations in the world, and the country's prime minister and Stockholm's mayor have both vowed that the attack will not damage the country and city's open society. (Sweden has accepted more refugees and migrants per capita than any other country during Europe's ongoing migrant crisis, though they have greatly restricted the influx more recently.)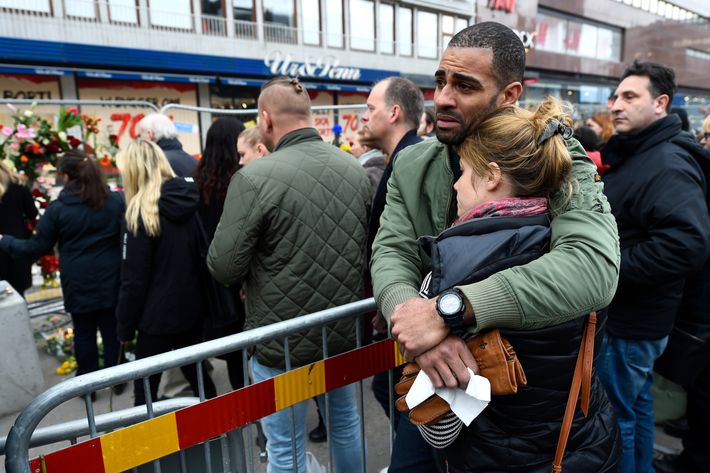 The attacker, who has not yet been publicly identified, was born in the Uzbekistan, a Muslim majority country. Authorities haven't said how he came to reside in Sweden or how long he had lived there, but he was on their radar; though, a previous investigation into the suspect had apparently gone nowhere. While the driver's motive is not yet confirmed, the International Crisis Group estimates that between 2,000 to 4,000 militants from Central Asia may have volunteered to fight with ISIS over the past several years. Uzbek nationals and ethnic Uzbeks are believed to make up the largest segment of that group. The ex-Soviet Central Asia region, impoverished and ruled by corrupt, authoritarian regimes, is home to its own native-grown Islamist groups as well.
"Terrorists want us to be afraid, want us to change our behaviour, want us to not live our lives normally, but that is what we're going to do," Prime Minister Stefan Lofven said in response to the attack. "We're also determined to continue to be an open society; a democratic society."