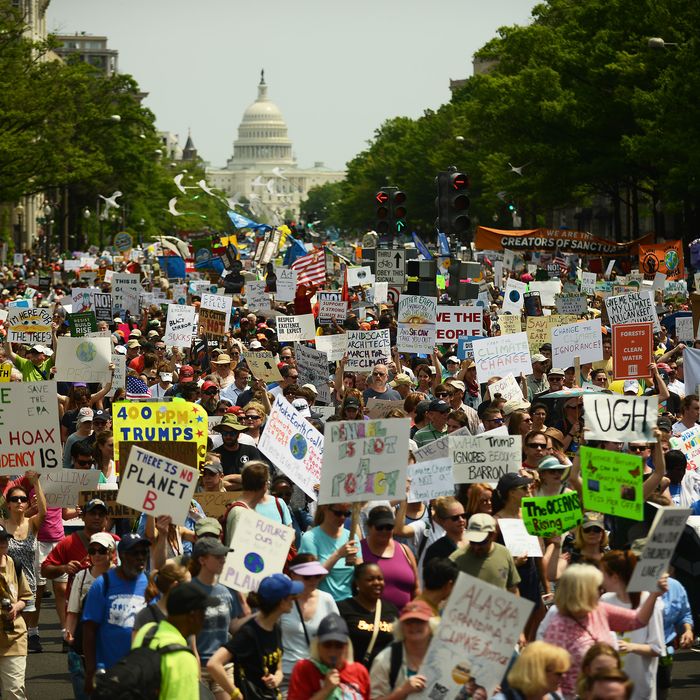 The march in action.
Photo: Astrid Riecken/Getty Images
Tens of thousands of demonstrators assembled in Washington, D.C. on Saturday afternoon to participate in the People's Climate March, a protest which sought to draw attention to the threat of human-driven climate change, as well as rally against the anti-environment policies of the new Trump administration. The total crowd size is still not clear — event organizers claim more than 200,000 attended in D.C. — but it looked pretty massive, based on television and social-media coverage of the event:
There was also record-setting heat in the U.S. capital region, with temperatures in D.C. matching the highest-recorded temperature ever in the city for April 29, 91 degrees. At Dulles Airport, a new high-temperature record of 88 degrees was set. In addition, the overnight temperature in D.C. also broke a record, by never dropping below 70 degrees for the first time ever in April.
Though the Washington march is expected to be the largest, other climate marches were planned on Saturday in dozens of additional U.S. cities, as well as around the world — 370 marches in all, according to event organizers.
And as was the case with the previous weekend's March for Science, some protesters got extra-creative with their sign game, albeit with a more confrontational tone toward the Trump administration (see below).
President Trump, like many in his administration and in the Republican Party, doesn't believe that the accelerating change of the planet's climate is being driven by human activity, despite the fact that this is the consensus conclusion of the scientific community and most world governments. Indeed, in his first 100 days in office, President Trump and his allies have sought to undo as many of President Obama's efforts to combat climate change as they could, and Trump's choice to head the Environmental Protection Agency, Scott Pruitt, is a longtime denier of human-driven climate change who has spent much of his political career fighting EPA efforts to regulate fossil-fuel emissions. (He also doesn't believe carbon dioxide is a primary driver of global warming.)
Pruitt and Trump were the target of many protesters on Saturday. Here are some of the scenes and signs:
And beyond D.C.:
This post has been updated throughout.