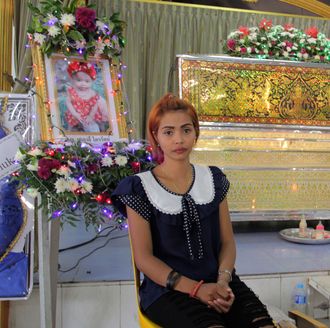 The baby's mother, Jiranuch Trirat.
Photo: AP Photo
On Monday, a Thai man broadcast a Facebook Live video in which he killed his 11-month-old daughter by hanging her from a building in a resort in Phuket. The video, the New York Times reports, was four minutes long and after ending the stream the man, 20-year-old Wuttisan Wongtalay, hung himself. "There is absolutely no place for content of this kind on Facebook, and it has now been removed," a Facebook representative told the Times.
Prior to Facebook removing the video from its platform, the Times also reports Thailand's News Broadcasting Council asked media outlets not to run the video. However, the video was available on Facebook for nearly a full day before it was taken down. In that time, the baby's mother, Jiranuch Trirat, watched it. Police are speculating about what caused Wongtalay's actions, believing he was motivated by "jealousy." The night before the murder-suicide, he reportedly accused Trirat of cheating on him.
Wongtalay's stream is not the only gruesome Facebook Live to make headlines this month. After an extensive police search for him, a suspect charged with killing an elderly Cleveland man and streaming it on Facebook Live killed himself. The shooter, Steve Stephens, allegedly decided to shoot the man — whom he did not know — after getting into a fight with his girlfriend, CNN reports.