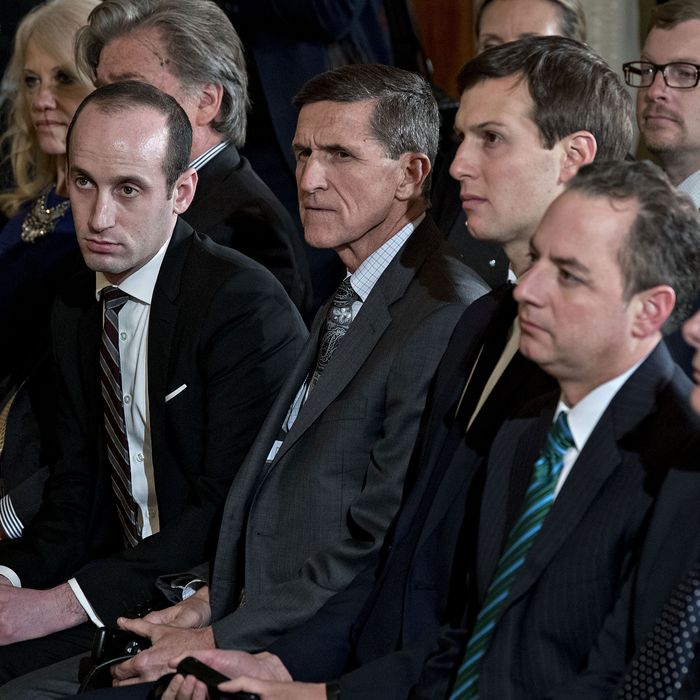 Lock him up?
Photo: Andrew Harrer/Bloomberg via Getty Images
The Defense Department inspector general is investigating President Trump's former national security adviser Michael Flynn over payments he received from foreign governments after he retired from the Army in 2014.
As a former military officer, Flynn was required to ask for Pentagon approval before pocketing foreign payments and he was explicitly told that when he retired, Maryland representative Elijah Cummings revealed Thursday.
The top Democrat on the House Oversight Committee, Cummings made public Thursday a letter from the inspector general saying it seeks to determine if Flynn "failed to obtain required approval prior to receiving" the payments. He also released a letter sent to Flynn in 2014 explicitly telling him not to take foreign payments without approval.
"These documents raise grave questions about why General Flynn concealed the payments he received from foreign sources after he was warned explicitly by the Pentagon," Cummings said.
Flynn is known to have received $45,000 from RT, the Russian-backed news network, for speaking at a dinner in 2015. His company, Flynn Intel Group, was also paid $530,000 last fall for work it did on behalf of the Turkish government.
"We have no evidence, not a shred, that he (Flynn) disclosed his payments … from RT, the Kremlin-backed propaganda outlet, and we have no evidence, zilch, that he obtained permission from the secretary of the Army and the secretary of State to accept any foreign-government payments as required by law," Cummings said at the news conference.
The Democrat also pushed the White House to release documents it has that could aide in the Oversight Committee's investigation. "I honestly don't understand why the White House is covering up for Michael Flynn," he told reporters.