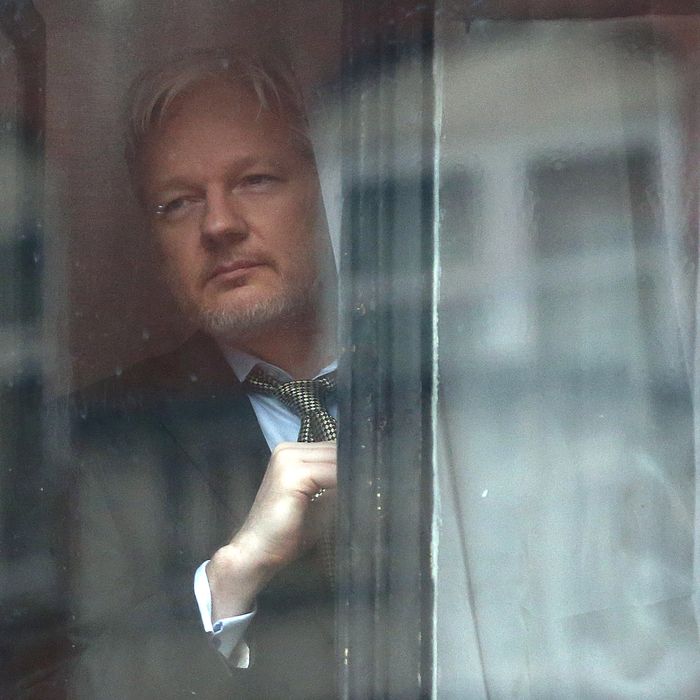 Assange looks out of a window in the Ecuadorian embassy on February 5, 2016.
Photo: Carl Court/Getty Images
President Trump declared "We love WikiLeaks" on the campaign trail and appeared to side with Julian Assange against 17 U.S. intelligence agencies in January. Yet last week, new CIA director Mike Pompeo called the organization a "hostile intelligence service" and its founder a "narcissist" and a "fraud."
It seems the Trump administration has suddenly shifted its view of WikiLeaks now that it's back to releasing information on the CIA's covert hacking program rather than Democrats' emails — and they plan to do far more than just call Assange names.
On Thursday afternoon, the Washington Post reported that federal prosecutors are considering whether to bring criminal charges against members of WikiLeaks, while CNN said they have already prepared charges against Assange.
As CNN explained, the Obama administration had decided to hold off on prosecuting Assange because they could not figure out how to go after him without targeting mainstream outlets that publish classified information.
During President Barack Obama's administration, Attorney General Eric Holder and officials at the Justice Department determined it would be difficult to bring charges against Assange because WikiLeaks wasn't alone in publishing documents stolen by Manning. Several newspapers, including The New York Times, did as well. The investigation continued, but any possible charges were put on hold, according to US officials involved in the process then.

But now they may have found a way around that. According to CNN, investigators found what they believe is proof that WikiLeaks "played an active role" in helping Edward Snowden leak a massive trove of classified documents.
The Post says U.S. officials are only drafting a memo on potential charges, and taking a fresh look at Chelsea Manning's admission that Assange helped her figure out how to crack a password so she could anonymously gain access to a government computer. Manning was convicted of leaking sensitive diplomatic cables, but President Obama commuted her 35-year- sentence during his last days in office.
Even going after Assange for helping Manning could cause problems for journalists, as the Post noted:
But journalists routinely employ methods — or tell sources to employ methods — that will help them avoid being identified. Justice Department officials in the previous administration believed that prosecuting Assange or other members of WikiLeaks could open the door to prosecuting news organizations and journalists who published classified information, and so they opted instead to target people, such as Manning, who had clearances to access such information and gave it to reporters.
It's unclear how the U.S. actually charging Assange would change his current status. It would increase pressure on Ecuador to boot Assange from their embassy in London, where he's been living since 2012, but he's there to avoid an arrest warrant for rape allegations in Sweden, not U.S. charges.
Attorney General Jeff Sessions suggested on Thursday that the Justice Department would find a way around all that, calling arresting Assange a "priority." He tied the Justice Department's potential prosecution of Assange to the Trump administration's larger effort to stamp out leaks.
"We are going to step up our effort and already are stepping up our efforts on all leaks," Sessions said. "We've already begun to step up our efforts and whenever a case can be made, we will seek to put some people in jail."