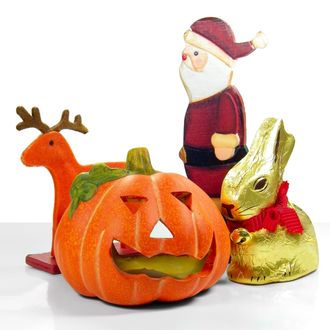 Happy everything!
Photo: Mario Salis/Getty Images/Hemera
This afternoon, Refinery29 went and explained what is surely one of the best-known stories on the planet: Easter. Twitter, naturally, lit up to mock what was seen as a barefaced grab for hits from when people Google, "What is Easter?"
But far be it from us to judge another publication for doing a particularly direct version of something every website has done at one point or another. It was quickly mocked on Twitter, understandably. (But let's be real about who gets the last laugh here, since we're clicking and sharing that story, and people outside certain internet circles are probably Googling "meaning of Easter" as the holiday looms.) With that in mind, we here at Select All whipped up a handy social and search-optimization calendar to make sure you never miss a festive click again.
January: The Crazy Reason the Number on Your Calendar Just Got Bigger

February: You Won't Believe Which Animal Is Involved in Groundhog Day

March: One Quick Tip to Ensure That Your Clock Isn't an Hour Behind Everyone Else's
April: The Super-Serious Story Behind Easter (Oh … wait.)

May: What Is a Mother?

June: Father's Day Gifts: Last-Minute Dad Gifts for Father's Day
July: What Time Is the Fourth of July?

August: Topless One Direction Nude, Cialis Justin Bieber, Free Streaming XXX Overwatch, Latest Episode Scandal, Naked [editor's note: There are no major American holidays in August, so this is a freebie headline.]
September: QUIZ: Which of These Mondays Do You Get Off This Month?

October: Your Fav Is Problematic: Christopher Columbus Edition
November: This Chart Shows You Which Flannel Shirt to Wear While Coming Out to Your Family at Thanksgiving Dinner

December: Check Out This Crazy Theory About Who the Baby From the Nativity Story Is