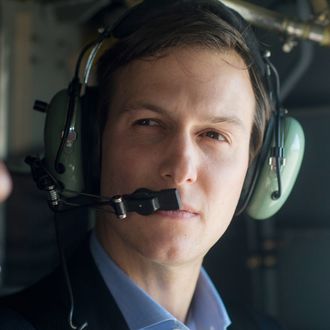 Over the weekend, internet sleuths on 4chan and elsewhere claimed to have identified the Last.fm account of Jared Kushner, son-in-law and close confidante of President Donald Trump. (For those of you who might not remember, Last.fm is a service that automatically logs what music you listen to, so that you can visualize trends and habits. About eight years ago, having a carefully curated Last.fm account was very important.)
The username identified is "JKushner," which, well, I can see why Jared Kushner is a suspect, but is still shaky logic for assuming that you've found the right guy. It's kinda like assuming JChrist is an account belonging to the son of God.
The nice thing about trying to peg a Last.fm account is that there's a lot of public behavioral data to get a grip on. For instance, if this is Kushner's account, he was listening to a lot of Wire while in Iraq last week.
This is not Jared Kushner's Last.fm account.
Except that this almost certainly is not his account. Looking at the public weekly breakdown of JKushner's listening habits shows JKushner spent 13 hours (roughly two hours a day) last week "Scrobbling" (that is, tracking) the music he played, including during his trip to Iraq. Even adjusting for time zones as this data is logged, it's extremely unlikely that the White House adviser — who is in charge of numerous presidential initiatives — has that much time to listen to music, or, for that matter, that persistent an internet connection. Also, the notion that a heavily watched public figure would subscribe to a service that automatically and publicly logs mostly innocuous listening data is pretty ridiculous.
Also, also, that's a lot of listening on Saturday for an observant Jew.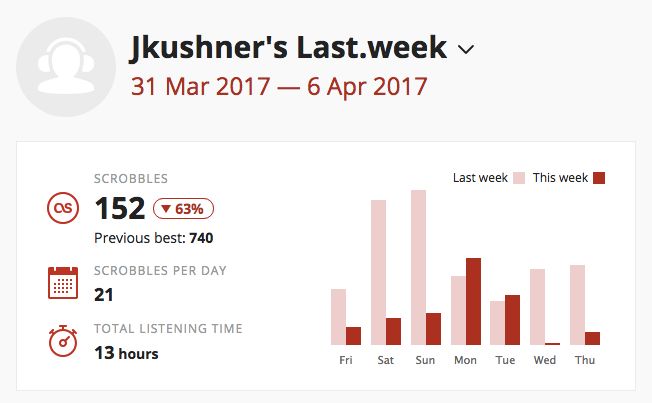 Also, also, also, do you think anyone in the Trump administration listened to tracks from Beyoncé's Lemonade 34 times last week?
This is also (probably) not Jared Kushner's brother Josh's Last.fm account.
The other pervading theory is that the account belongs to Josh Kushner, Jared's brother and co-founder of health-insurance start-up Oscar. Again: I see why you might think so. BUT: Josh has been dating model/computer scientist Karlie Kloss for four years. Karlie Kloss is a well-known member of Taylor Swift's squad. This places Josh within one degree of Swift.
And yet, the JKushner profile only has two Taylor Swift Scrobbles.
So who is JKushner on Last.fm? Probably just some unlucky music aficionado encountering a swarm of misdirected online vitriol now. Great job, everyone.