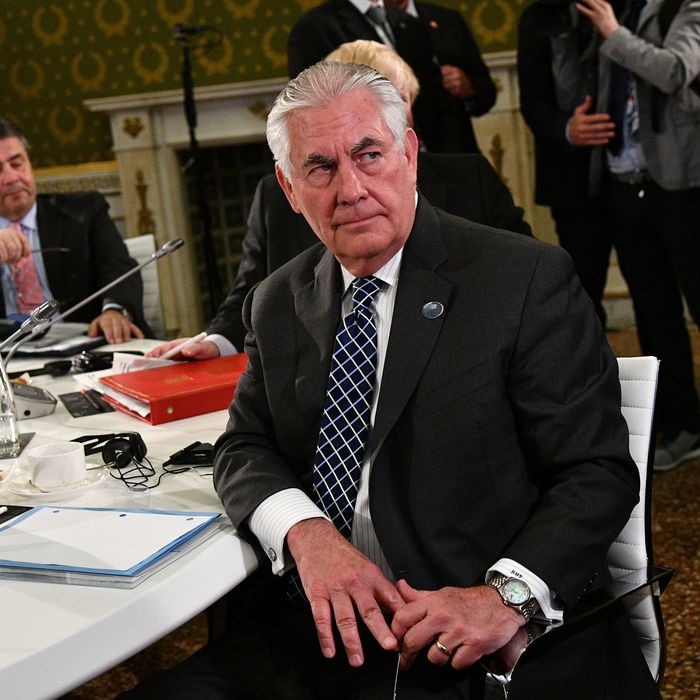 International Man of Mystery Rex Tillerson.
Photo: VINCENZO PINTO/AFP/Getty Images
Last week's strike against the Assad regime has left the world with "geopolitical whiplash" on the state of the U.S.-Russia relationship, as the New York Times put it. Even with allegations swirling about his campaign's ties to Russia, in the early weeks of his administration President Trump seemed willing to overlook Russia's annexation of Crimea and defended President Vladimir Putin, saying, "There are a lot of killers. You think our country's so innocent?"
Now the White House has accused Russia of helping the Syrian government cover up last week's chemical-weapons attack, and Secretary of State Rex Tillerson has warned Russia that it should reconsider allying itself with the Assad regime, the Iranians, and Hezbollah.
It's been hard to get a clear picture of the Trump administration's policy on Syria or Russia, and during a meeting of foreign ministers from the Group of Seven on Tuesday in Lucca, Italy, Tillerson created even more confusion.
"Why should U.S. taxpayers be interested in Ukraine?" Tillerson asked the diplomats while discussing Russia's invasion and annexation of Crimea, according to Bloomberg.
French Foreign Minister Jean-Marc Ayrault described the offhand remark to reporters, saying he told Tillerson that Americans should want a European Union that is "strong politically, strong from a security point of view, and strong economically."
This revived concerns that the U.S. might ease sanctions on Russia, despite all the tough talk in recent days. That would be a bizarre reversal, since two weeks ago the Trump administration explicitly ruled out lifting Russian sanctions … in a statement from Tillerson.
"We do not, and will not, accept Russian efforts to change the borders of territory of Ukraine," Tillerson said at a NATO meeting in Brussels. "The United States sanctions will remain until Moscow reverses the actions that triggered our sanctions."
Apparently the question is just the latest example of Tillerson not understanding the weight of every remark made by the secretary of State. Trump's State Department could have released a statement explaining that the United States' stance on Russian sanctions has not changed, but it seems they've challenged themselves to conduct foreign policy in as few words as possible. This is all a spokesman had to say when asked what Tillerson was getting at: "rhetorical device."