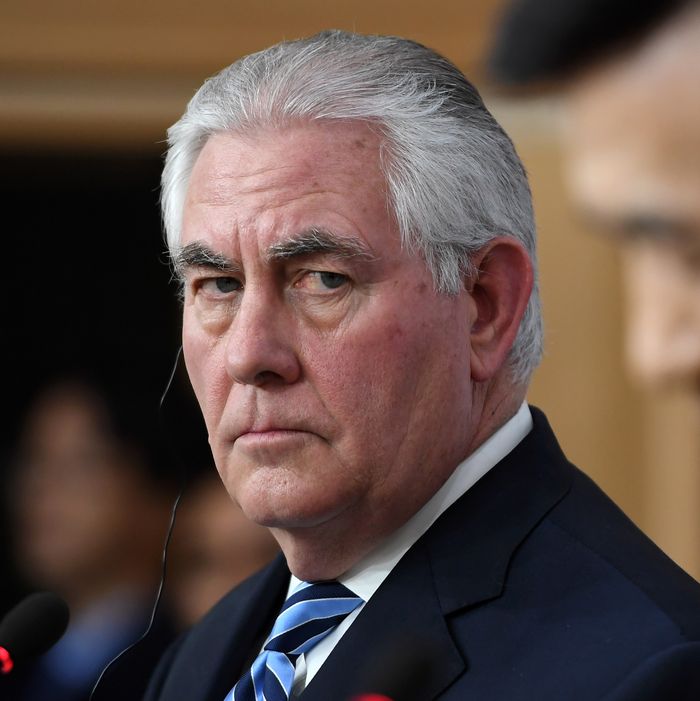 Tillerson at a press conference with South Korean Foreign Minister Yun Byung-Se in Seoul on March 17, 2017.
Photo: JUNG YEON-JE/AFP/Getty Images
In an unsurprising move, North Korea fired a ballistic missile into the Sea of Japan on Wednesday, a day before Chinese president Xi Jinping is set to meet with President Trump at Mar-a-Lago. However, people were taken aback by the terse response from U.S. Secretary of State Rex Tillerson. His full statement reads:
North Korea launched yet another intermediate range ballistic missile. The United States has spoken enough about North Korea. We have no further comment.
Some interpreted this as another sign that Tillerson would rather not be secretary of State, while others saw it as an ominous suggestion that the U.S. is on the verge of doing "something dramatic" in North Korea.
In the lead-up to Xi's visit, administration officials have made a number of aggressive statements about North Korea. Earlier on Tuesday, CNN reported that senior White House officials told reporters, "The clock has now run out and all options are on the table."
In a Financial Times interview over the weekend, Trump reiterated his call for China, North Korea's closest ally, to do more to reign in Pyongyang's nuclear program. He threatened that the U.S. will stop North Korea if China fails to do so, but he didn't elaborate on what that means.
"China has great influence over North Korea. And China will either decide to help us with North Korea, or they won't. And if they do that will be very good for China, and if they don't it won't be good for anyone," Trump said. "If China is not going to solve North Korea, we will. That is all I am telling you."
When the Trump administration launched a review of North Korea policy last month, they stressed that using military force toward Pyongyang was under consideration. On Sunday a senior U.S. official told Reuters that the review recommended cyberattacks against North Korea's leadership, increasing economic sanctions — including "secondary sanctions" against Chinese companies that do business with North Korea — and beefing up South Korean and Japanese anti-missile defenses. They said preemptive military strikes are not off the table, but the plan "de-emphasizes direct military action."
President Trump is not obligated to follow those recommendations, and his administration's North Korea strategy remains unclear. Many believe he's blustering, rather than seriously considering unilateral military action (which would have dire consequences, even if all went according to plan).
On Tuesday General John Hyten, the commander of U.S. Strategic Command, contradicted Trump's claim that the U.S. will take action, even if China won't. Hyten told the Senate Armed Services Committee it's his job to present the president with military options, but he believes "any solution to the North Korean problem has to involve China."

While Beijing is irritated by North Korea's belligerent actions, the New York Times' Roger Cohen predicted that Xi will simply shrug if Trump starts making demands. He notes:
China has leverage over Kim, but its "strategic patience" with him is infinite. Its priority is the survival of the totalitarian regime as a buffer. The dictator is China's insurance against a nuclear-armed united Korea at its doorstep. Millions of North Koreans flooding over its border in the event of a regime collapse is the last thing China wants.
China wants the U.S. to deescalate tensions, and restart negotiations with Pyongyang. The Times reports that even some of Trump's closest aides are questioning whether completely disarming North Korea is still feasible, and some experts say the goal now should be deterrence.
President Obama warned his successor that North Korea could be his greatest foreign-policy headache, and clearly there's no easy solution. One thing that does seem clear, however, is that the Trump administration leaving the world guessing at its North Korea policy isn't helping matters. Daniel Pinkston, Northeast Asia deputy project director at the International Crisis Group in Seoul, told Time that the uncertainty has made the situation even riskier.
"If U.S. alliance commitments are undermined, weakened or terminated, that undermines reassurances to allies. It also signals to potential challengers or enemies that there may be opportunities to revise the status quo," Pinkston said. "Under conditions of uncertainty you don't know where the red lines are … you're going to challenge the other actors and see what you can get away with."