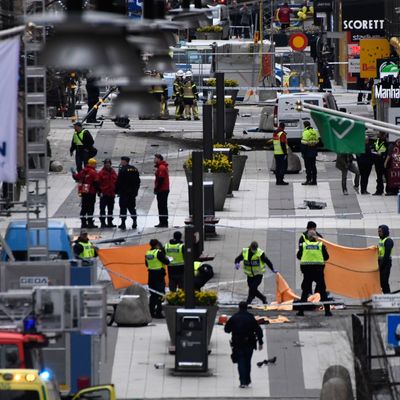 Emergency workers on Stockholm's busiest shopping street.
Photo: Jonathan Nackstrand/AFP/Getty Images
A hijacked beer truck plowed down Stockholm's busiest pedestrian street and crashed into a storefront Friday afternoon, killing at least three people and injuring dozens more.
"Many things point to this being a terror attack," Swedish prime minister Stefan Lofven said. Lofven added that one person had been arrested, but subsequent reports from Swedish police contradict that. They do, however, have a suspect they wish to question and have begun a manhunt to find him.
After careening down the shopping street Drottninggatan, the truck crashed into the Ahlens department store. It left pools of blood and mangled bodies in its wake. "People are lying mowed down along the whole route. CPR is being given and rubbish bags are being used to cover the lifeless bodies," one witness told the Telegraph.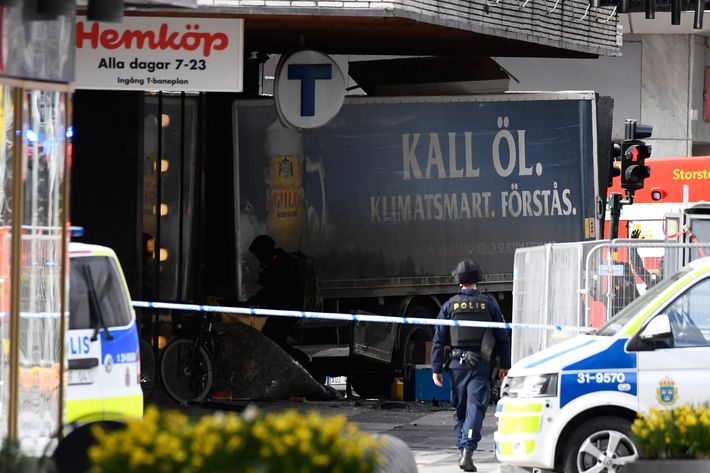 The truck, which belongs to the Swedish brewery Spendrups, said it was stolen while a driver was making a delivery earlier in the day.
The city came to halt after the attack. The subway was shut down and train services in and out of the Swedish capital were halted. Police told residents to stay away from the center of the city.
This is at least the third vehicle attack in Europe in recent months. Last December, 12 people were killed by a hijacked truck in Berlin, and last month a British man killed five people in a car and knife attack on London's Westminster Bridge.