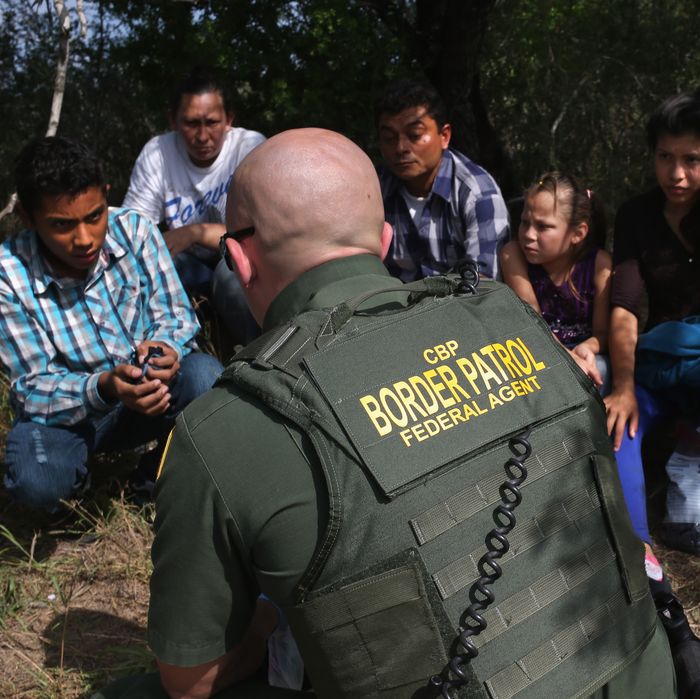 A Border Patrol agent speaks with Central American immigrant families who crossed into the United States seeking asylum on April 14, 2016, in Roma, Texas.
Photo: John Moore/Getty Images
It looks like the courts will strike down President Trump's executive order punishing "sanctuary cities," and congressional Republicans appear to have little interest in shutting down the government to fund the border wall. But the Trump administration isn't about to let legal troubles or a lack of money crush its dream of deporting undocumented immigrants by the thousands.
Mick Mulvaney, the director of the Office of Management and Budget, is said to be pushing Congress to include funding cuts for sanctuary cities in its must-pass appropriations bill, though that heightens the risk of a shutdown at the end of August.
And earlier this week, Attorney General Jeff Sessions issued a memo instructing federal prosecutors to step up their prosecution of "aliens" and those who "harbor" them. "For those that continue to seek improper and illegal entry into this country, be forewarned," Sessions said during a trip to the border in Arizona. "This is a new era. This is the Trump era."
Now the Washington Post has obtained an internal memo from the Department of Homeland Security that details how the agency could build up a "deportation force" like Trump promised during the campaign, and speed up the processing of deportation cases.
David Lapan, a spokesman for the department, told the New York Times that the document is only a "draft that hasn't made it to the front office yet," and "anything in it is subject to change."
Trump has called for hiring an additional 5,000 Border Patrol agents and 10,000 more Immigration and Customs Enforcement agents, and the memo outlines several ways that could be accomplished. This includes ending polygraph and physical fitness tests for some applicants, and eliminating part of the entrance exam that tests Spanish language skills, though "the appropriate level of proficiency" would still be required to graduate the academy.
Immigration and Customs Enforcement has also determined how to expand the number of beds in detention centers by 33,000, according to the document. This includes 21,000 beds in 27 private and government facilities that could potentially serve as detention centers, as well as another 12,500 beds in exiting CBP facilities.
The Trump administration hopes to keep those attempting to enter the U.S. illegally in Mexico, regardless of their nationality, as they're being processed in American immigration courts. Mexico objects to this, but the memo presents several options for speeding up these proceedings, such as holding video conferences or stationing more immigration judges on the border.
The memo also describes plans to expand a program scaled back under the Obama administration, which currently allows 37 local law enforcement agencies to help enforce federal immigration laws. DHS says applications from 18 new departments are under consideration, with another 50 expressing interest in participating.
DHS does note throughout its assessment that many of these plans can't move forward without new funding from Congress — and plenty of it. The memo says stationing judges at the border would cost $400,000 per location, and hiring just 500 agents would cost $100 million. Trump has requested $1.5 billion for a border wall and another $2.6 billion for border security next year, but delivering that funding doesn't appear to be a priority for GOP congressional leaders.
For now, CBP is forging ahead with the resources it does have, using $20 million in reappropriated funding to build a prototype of the southern border wall. And ICE appears to be taking advantage of Trump's expanded definition of which "criminals" should be targeted for deportation.
"This is an administration that very much is interested in setting up that mass deportation infrastructure and creating the levers of a police state," Marielena Hincapié, executive director of the National Immigration Law Center, told the Post. "In these documents, you have more proof and evidence that they're planning to carry it out."