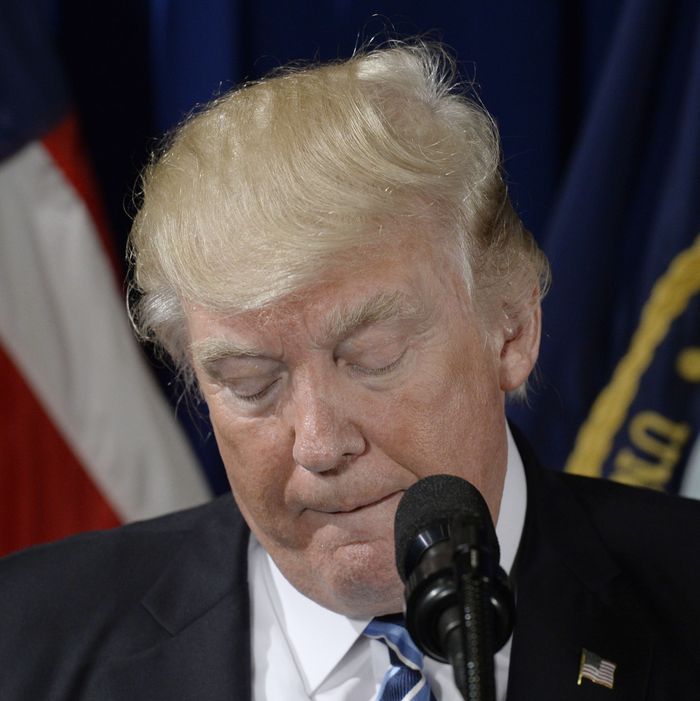 Why didn't anyone try to warn him?
Photo: Olivier Douliery/Bloomberg via Getty Images
Saturday marks President Trump's 100th day in office, and to celebrate the occasion he got a bit too candid in an Oval Office interview with Reuters. Obviously certain elements of being president are pretty fun, but President Trump has discovered that it isn't all playing with trucks and pressing a button that makes Cokes appear. Sometimes there's work to be done, and as it turns out being leader of the free world is a lot harder than running a fake university and playing a caricature of a rich person on TV.
"I loved my previous life. I had so many things going," Trump told Reuters. "This is more work than in my previous life. I thought it would be easier."
Trump also expressed surprise at the lack of privacy and travel restrictions, though being president has not prevented him from visiting his own properties an average of once every 2.8 days.
"You're really into your own little cocoon, because you have such massive protection that you really can't go anywhere," he said.
And, adding some context to the truck incident, he said he misses being behind the wheel. "I like to drive," he said. "I can't drive anymore."
How much does Donald Trump hate his job?
At least President Trump can take solace in his new hobby: endlessly analyzing the size of his election win.
Midway through a discussion about Chinese President Xi Jinping, the president paused to hand out copies of what he said were the latest figures from the 2016 electoral map.

"Here, you can take that, that's the final map of the numbers," the Republican president said from his desk in the Oval Office, handing out maps of the United States with areas he won marked in red. "It's pretty good, right? The red is obviously us."

He had copies for each of the three Reuters reporters in the room.