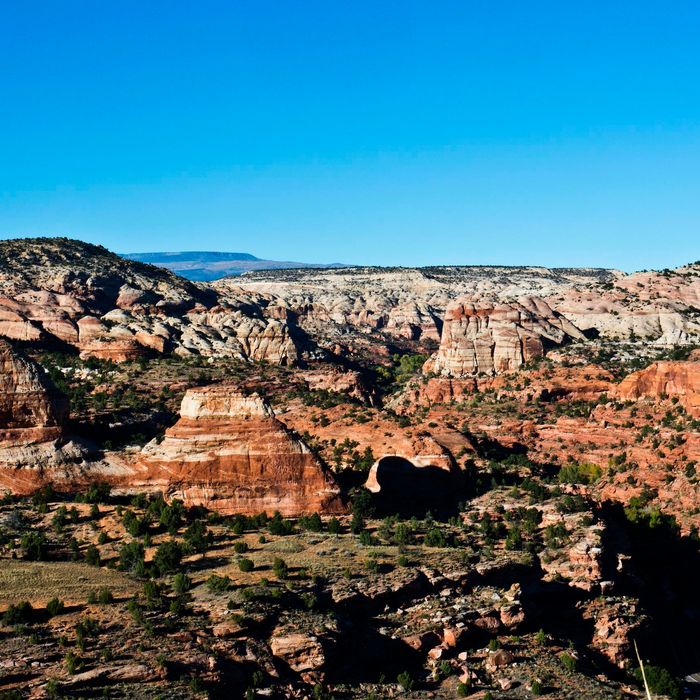 Grand Staircase Escalante National Monument.
Photo: Education Images/UIG via Getty Images
As part of his ongoing effort to look busy before his 100th day in office, President Trump will sign two executive orders this week that could pave the way for the expansion of offshore drilling and opening up protected lands and waters to fossil-fuel development.
Trump is expected to sign an order on Wednesday that will direct Interior Secretary Ryan Zinke to review areas designated as national monuments during the last three administrations. Zinke will have 120 days to submit his proposals for scaling down or revoking the status of monuments created under the 1906 Antiquities Act.
According to Politico, the review will focus mainly on two monuments in Utah believed to hold fossil fuels: Bears Ears National monument, which was protected by President Barack Obama last year, and Grand Staircase-Escalante National Monument, which received the designation from President Bill Clinton in 1996.
Sixteen presidents have used the Antiquities Act to protect U.S. lands and waters, and while some have altered the size of monuments set aside by their predecessors, none have tried to revoke their status entirely. It's unclear if presidents have the legal authority to do so, and environmental and Native American groups say they're prepared to file lawsuits if President Trump alters any monument's designation.
The New York Times reports that President Trump will sign a second executive order on Friday that aims to open up protected waters in the Atlantic and Arctic Oceans to offshore drilling. In December, President Obama invoked an obscure 1953 law to permanently ban offshore drilling in those water, and he had previously banned drilling in the Arctic Ocean through 2022.
President Trump wants to show he's fulfilling his campaign promise to expand drilling and create new jobs in the energy sector. But the orders may have little impact. They'll likely be held up in court for years, and as the Times notes, oil companies may be hesitant to expand into "costlier, riskier offshore drilling."
"You don't create jobs by signing a piece of paper if those jobs rely on a combination of economics and technology that the president doesn't control," said Kevin Book, a managing director at the D.C. analysis firm ClearView Energy Partners.
But the orders will allow President Trump to say he unraveled more Obama-era restrictions during his first 100 days, and that appears to be the priority right now.