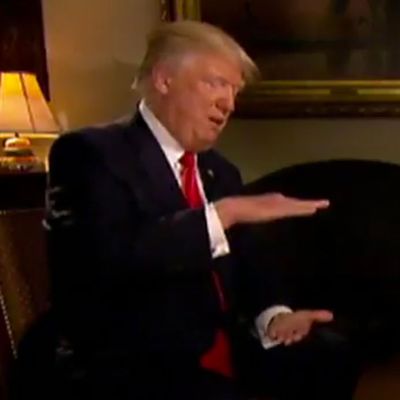 Not just a beautiful cake, but a huge cake.
Photo: FOX Business Network
President Trump was enjoying the "most beautiful piece of chocolate cake that you've ever seen" when he ordered the air strike on a Syrian airfield last week. Moments later, he told Chinese president Xi Jinping — who was digging into some cake of his own — about the strike, he told Fox Business Network's Maria Bartiromo in an interview that provided plenty of bizarre moments.
Here are 150 seconds of his chat with Bartiromo, which gets weird at least five times.
First, at 0:30, there's Trump's childlike description of the cake he and Xi were eating when he ordered the strike. Not only was it beautiful, but it was big, as he helpfully indicates with his hands.
Then, at 1:04, Trump says it's "unbelievable" that all of the missiles "hit," which isn't so much unbelievable as it is inevitable. There has yet to be a missile launched into the air that didn't hit something. Of course, Trump likely means that all of the missiles hit their targets, but that's not true either. According to General Joseph Votel, who commands U.S. forces in the Middle East, only 57 of 59 targets were hit.
At 1:09, Bartiromo makes sure she looks silly in this interview, too, by gawking at the fact that the missiles were "unmanned," which isn't exactly unique.
A second later, Trump begins heaping praise on the military and all of its "incredible," "brilliant" technology. But at 1:23, he remembers he's supposed to think the military is "depleted." So he says that, too.
The cake part might be the tastiest morsel of this video, but at 1:34, Trump delivers the most disconcerting bit when he says he told Xi that the U.S. "just launched 59 missiles heading to Iraq." Bartiromo corrects him, "Heading to Syria." Trump probably just misspoke here. He probably had Iraq on the mind, after bringing up the Iraq War so he could bash Obama. But not everyone is going with such a generous reading.