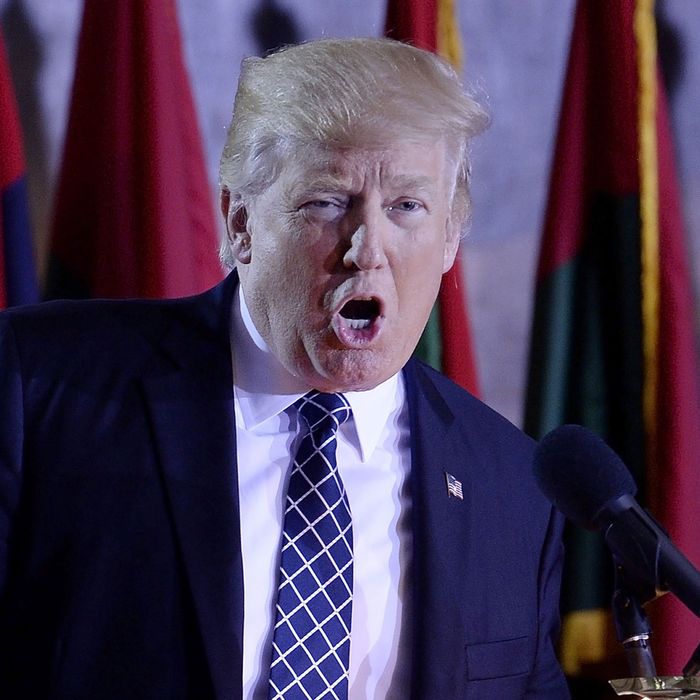 The president lashes out at the Ninth Circuit, which is not the same as a district court that makes decisions appealable to the Ninth Circuit.
Photo: Olivier Douliery/Pool/Getty Images
If you needed any evidence that no one in the White House is reviewing the president's tweets before he launches them into the world, this could be it:
As any bright high school student could have told him, the Ninth Circuit Court of Appeals had nothing to do with federal district court judge William Orrick's temporary restraining order stopping implementation of Trump's executive order aimed at punishing sanctuary cities.
A brace of follow-on presidential tweets seems to view the Ninth Circuit as a geographical construct or as a sort of association — you know, like a college football conference.
The term the president is reaching for is "forum shopping," but them's the breaks if you promulgate executive orders that affect people anywhere. That gives federal judges everywhere jurisdiction.
Trump's frustration is understandable, but if he really wants a culprit in either the travel ban or the sanctuary cities case, he should look in the mirror. It was his (and his closest associates') belligerent talk about a Muslim-immigration ban that ultimately made the initial and revised travel bans vulnerable to attack in the courts (and not just in courts where appeals go to the Ninth Circuit). And it is his (and Jeff Sessions's and Sean Spicer's) saber-rattling toward sanctuary cities and states that undermined Justice Department claims in Judge Orrick's court that the executive order was a toothless exercise of "the bully pulpit."
Loose lips sink ships when you are in Trump's position and can no longer boast and bully and bluster without consequences, on Twitter or anywhere else.