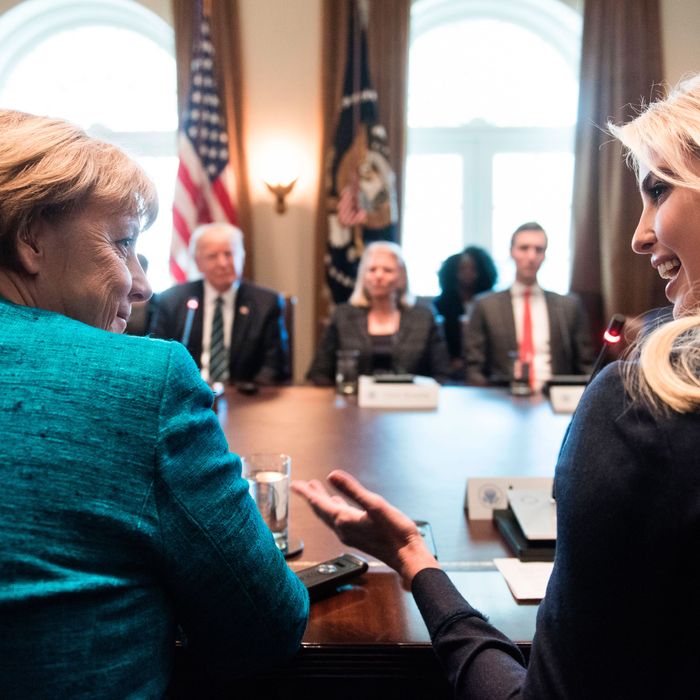 Angela Merkel and Ivanka Trump.
Photo: Brendan Smialowski/AFP/Getty Images
After winning the presidential election, Donald Trump faced enough pressure and media scrutiny over the unprecedented conflicts of interest between his business and his public office to force him to construct an edifice of separation between the two. "I will be holding a major news conference in New York City with my children on December 15 to discuss the fact that I will be leaving my great business in total," he promised in December. His children would take charge of the business, the president-elect promised, saying, "I hope at the end of eight years I'll come back and say, 'Oh you did a good job.'" What he promised was never remotely sufficient to dispel the potential for corruption. But he has increasingly decided the facade is no longer even necessary.
ProPublica reports that Trump has inserted a new clause into his business agreement allowing him to withdraw money from any of his holdings at any time for any reason he deems fit. This is the most recent iterative step in the slow dismantling of the Potemkin wall. Leaving his business "in total" has previously been amended to allow for quarterly reports by Eric Trump.
In December Trump promised, "No new deals will be done during my term(s) in office." In January, that pledge was scaled back to simply mean no new foreign deals. Accordingly, Trump's company announced a massive expansion of its domestic hotel business. "There are 26 major metropolitan areas in the U.S., and we're in five," Trump Hotel chief executive Eric Danziger said in January. "I don't see any reason that we couldn't be in all of them eventually."
Trump promised in January he would donate any profits at his hotels that came from foreign governments. When reporters found two months later that he had failed to do so, his organization promised the donations would happen at the end of the calendar year.
The main problem with Trump's "separation," of course, is that it operates on his say-so. Without access to his tax returns, the extent of his business conflicts is a matter of guesswork to the public. And, with the president enjoying an idiosyncratic exemption from the strict conflict-of-interest requirements that bind other federal employees, the only enforcement mechanisms lie in Congress's hands. Congress could require Trump to release his tax returns, but the Republican majority has voted down even these halting steps.
Indeed, Jason Chaffetz, who chairs the House Oversight Committee, gave a series of blanket defenses for Trump's self-enrichment. Trump, he explained, is already rich, surely has no interest in getting richer, and his potential self-enrichment would not affect average Americans, who in any case do not care. The Republican Congress has granted Trump unlimited license to use his office to enrich himself and his family, and to enmesh his family in the business of governing.