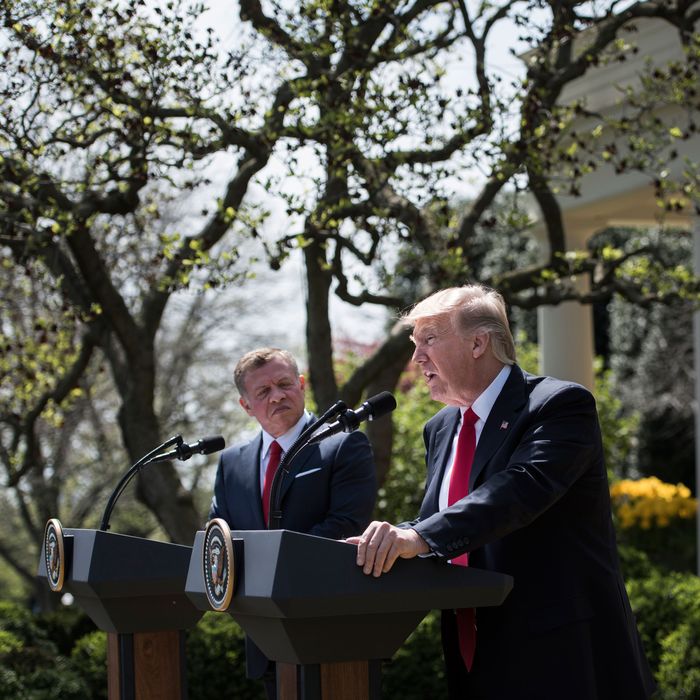 President Donald Trump and Jordan's King Abdullah II at a joint press conference at the White House on April 5.
Photo: Brendan Smialowski/AFP/Getty Images
"It crossed a lot of lines for me," President Donald Trump said Wednesday, of this week's chemical attack in Syria, after a reporter asked if it had crossed a "red line" for him.

"When you kill innocent children, innocent babies, babies, little babies, with a chemical gas that is so lethal people were shocked to hear what gas it was, that crosses many, many lines, beyond a red line," the president continued. "Many, many lines."
Moments earlier, Trump criticized the Obama administration for failing to act in Syria, as he stood alongside King Abdullah of Jordan in the White House Rose Garden.

"The Obama administration had a great opportunity to solve this crisis a long time ago when he said the 'red line in the sand,'" Trump fired off. "When he didn't cross the line, after making the threat, I think that set us back a long ways, not only in Syria but in many other parts of the world. It was a blank threat."As a private citizen, Trump had argued vociferously against intervention in Syria, and had said that Obama put himself in a "very bad position" when he set the "red line."
But Trump acknowledged that dealing with Syria is now actually his job, and not the former president's. "I will have that responsibility and carry it very proudly, I will tell you that. It is now my responsibility," he said.
Trump explained his "attitude" toward Assad and Syria had changed, but though he used tougher language, he failed to deliver any details on how his administration plans to deal with Assad and his powerful allies in Russia and Iran. Last week, his administration signaled that removing Assad from power was no longer a priority; but on Tuesday after the attack, White House Press Secretary Sean Spicer said it would be "silly" not to acknowledge the political realities on the ground.
Those political realities have not changed much since Assad's horrific attack. Trump did bring up Russia in an earlier statement about Syria calling it "a very sad day for Russia because they're aligned, and in this case, all information points to Syria that they did this. Why they did this, who knows? That's a level first of all they weren't supposed to have this." Moscow has claimed that a stockpile of rebels' weapons leaked and killed scores of people, an explanation that has been unequivocally dismissed.
Another Trump administration official, United Nations Ambassador Nikki Haley, did have harsh words for Russia and Assad in the first big face-off between the veto-holding Moscow and Washington at an emergency session of United Nations Security Council. Haley gave a pointed speech, one buttressed by pictures of the the chemical-attack victims. "We cannot close our eyes to those pictures, we cannot close our minds of the responsibility to act," Haley said.
Haley did not hold back on Russia's complicity in Assad's atrocities:
Russia stood in the way of this accountability. They made an unconscionable choice. They chose to close their eyes to the barbarity. They defied the conscience of the world. Russia cannot escape responsibility for this. In fact, if Russia had been fulfilling its responsibility, there would not even be any chemical weapons left for the Syrian regime to use.

There is one more thing we know: We know that if nothing is done, these attacks will continue.

Assad has no incentive to stop using chemical weapons as long as Russia continues to protect his regime from consequences.
In her conclusion, Haley indicated that the United States might consider taking unilateral military action to impose such consequences — a notion that Trump never explicitly acknowledged in his remarks. "When the United Nations consistently fails in its duty to act collectively, there are times in the life of states that we are compelled to take our own action," Haley said. "For the sake of the victims, I hope the rest of the council is finally willing to do the same."
The United States, France, and Britain presented a draft resolution condemning Syria for the attack, and demanding Syrian military flight logs. But a spokesperson for the Russian Foreign Ministry called the resolution "unacceptable."