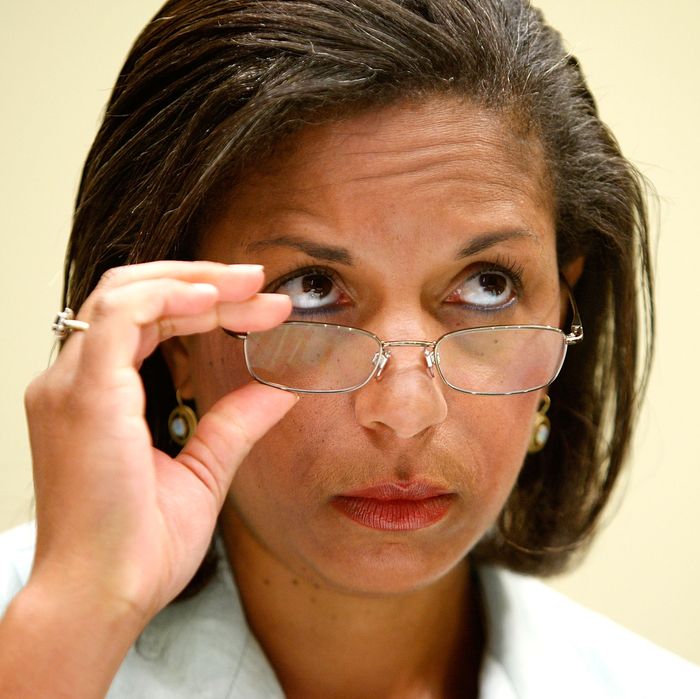 Photo: Alex Wong/Getty Images
Making wild, evidence-free accusations about President Obama and former members of his administration has worked out pretty well for Donald Trump, so it's no surprise that with his domestic agenda stalled and various foreign policy issues flaring up, he's comforting himself by stepping up his attacks on former national security adviser Susan Rice.
During an interview with New York Times' Maggie Haberman and Glenn Thrush on Thursday, President Trump was asked about the battle over Neil Gorsuch, his Supreme Court nominee. He quickly pivoted to an untrue claim about his election win, and then mentioned out of nowhere that the Susan Rice controversy is a "massive story," though the Times refuses to cover it.
GLENN THRUSH, White House correspondent: Why do you think Democrats feel the need to oppose Gorsuch? What do you think the politics is?

TRUMP: Well, I think that some of it had to do with the election. They thought they were going to win. You know, winning the Electoral College is, for a Republican, is close to impossible and I won it quite easily. And I think they are still recovering from that, but they are recovering now. I think the Susan Rice thing is a massive story. I think it's a massive, massive story. All over the world, I mean other than The New York Times.
Haberman pointed out that the Times just ran two stories on the claim that Rice requested the identities of Americans named in intelligence reports for political purposes. In an MSNBC interview on Tuesday, Rice asserted that there's nothing unusual or improper about someone in her position "unmasking" names to better understand intelligence reports. She called claims that any member of the Obama administration unmasked the names of Trump associates for political purposes "absolutely false," adding, "I leaked nothing to nobody."
After Trump explained that he thinks Bill O'Reilly is "a good person" and he doesn't "think Bill did anything wrong," though multiple women have accused him of sexual harassment, he returned to Rice. Trump declared that he believes she might have committed a crime, though he rebuffed Haberman and Thrush's questions about why he won't release evidence to back that up:
THRUSH: One last thing on that. Have you actually seen intelligence that leads you to believe that people other than Susan Rice are involved.

TRUMP: I don't want to comment on anything about — other than to say I think it's a — I think it's truly one of the big stories of our time.

THRUSH: Do you think she might have committed a crime?

TRUMP: Do I think?

THRUSH: Yeah.

TRUMP: Yes, I think.
At one point Trump claimed that even Democrats are incensed about Rice's conduct:
I think it's one of the biggest stories. The Russia story is a total hoax. There has been absolutely nothing coming out of that. But what, you know, what various things led into it was the story that we're talking about, the Susan Rice. What's happened is terrible. I've never seen people so indignant, including many Democrats who are friends of mine. I've never seen them acting this way. Because that's really an affront on them, you know, they are talking about civil liberties. It's such an affront, what took place.
There isn't much to back up that claim either, and in fact Democrats on the House Intelligence Committee — which is investigating the Russia matter, when its chairman isn't trying to bolster the president's wild accusations — responded by challenging Trump to offer up some proof of Rice's alleged crimes.
"If the president wants to say that Susan Rice committed a crime, he has the power to declassify. No one else does," Democratic Representative Eric Swalwell said Wednesday, according to Politico. "So, he could actually show us where the crime was. I don't expect he will, because I think this is just more obstructionism."
Representative Adam Schiff, the committee's ranking Democrat, echoed that call. "If he's going to make accusations of criminality against anyone, he needs to show evidence to support that kind of a charge," Adam Schiff told reporters. "Obviously that's not something he was either able or willing to do with respect to his accusations against Obama. It's not something I expect he's going to be able to do with Susan Rice either."
Indeed, it seems both baseless Trump accusations are succeeding in discrediting the intelligence committees' investigations, so why should the president listen to their demands?