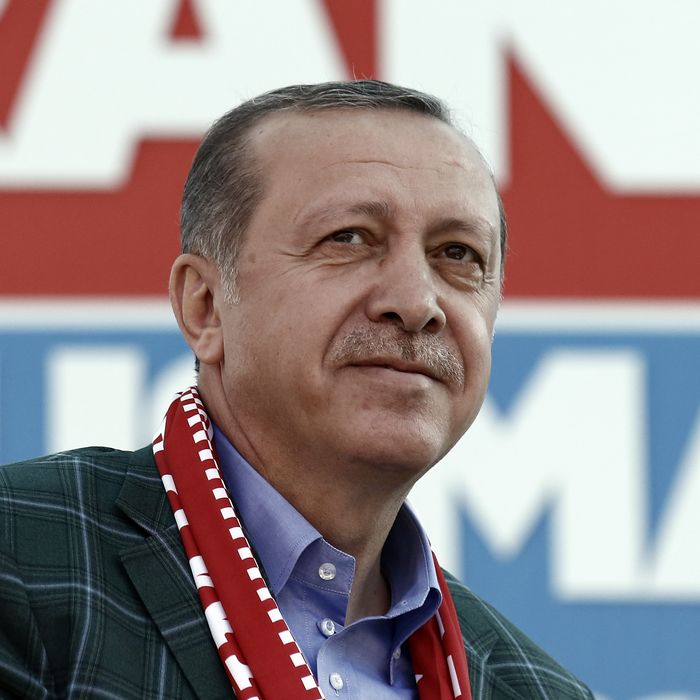 Recep Tayyip Erdogan.
Photo: Kostas Tsironis/Bloomberg via Getty Images
On Sunday, a referendum that experts say will solidify Turkish president Recep Tayyip Erdogan's authoritarian rule passed by a vote of 51.2 percent to 48.8 percent. The populist leader has been accused of using last summer's attempted military coup to suppress human rights and crack down on political opponents. The validity of the vote — which will do away with Turkey's parliament and could allow Erdogan to stay in power through 2029 — was challenged by the opposition party and international election observers.
Apparently what President Trump took from all that is that Erdogan scored a massive win. According to the White House, Trump called Erdogan on Monday to "congratulate him on his recent referendum victory."
The State Department was far less enthusiastic about the outcome of the referendum. In a statement issued earlier on Monday, the department noted that in their preliminary assessment, international observers raised concerns about "irregularities on voting day and an uneven playing field" during the campaign.
"We look to the government of Turkey to protect the fundamental rights and freedoms of all its citizens," said the department's acting spokesman, Mark Toner. He added that the U.S. is committed to strengthening its relationship with Turkey and supports their "democratic development, to which commitment to the rule of law and a diverse and free media remain essential."
It's possible that Trump raised concerns about the erosion of Turkey's democracy as well, but the White House didn't mention that. The brief statement does note that Trump thanked the Turkish leader for supporting the recent U.S. strike in response to the Syrian regime's use of chemical weapons. It also says the leaders discussed their cooperation in the fight against ISIS, and "agreed on the importance of holding Syrian president Bashar al-Assad accountable."