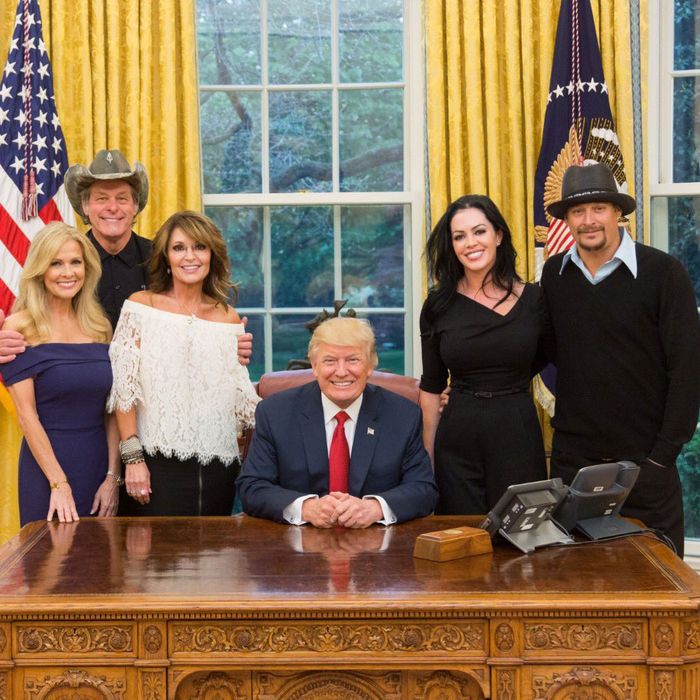 For the first time since he moved in, President Trump looked genuinely happy in the White House as he posed for a photo in the Oval Office with three wealthy celebrities who've crafted images as gunslinging, beer-drinking avatars of the working class.
Ted Nugent, Kid Rock, and Sarah Palin joined Trump at the White House Wednesday for an unannounced dinner that was revealed Thursday morning by a stream of social-media posts by Palin and Nugent. They ate lobster and lamb, discussed making America great again, and mocked Hillary Clinton.
While Palin shared only pictures from the trip, Nugent, who once suggested that President Obama fellate a machine gun, provided some details about what he and Trump discussed, in a blog post for the website Deer & Deer Hunting.
We discussed various quality of life issues and how entrenched status quo political correctness has wrecked everything it has touched and how his administration is focused and dedicated to get back to the US Constitutional basics of government of, by and for the people.

… We discussed specifically the counterproductive follies of the Endangered Species Act and the Environmental Protection Agency, as well as the US Fish & Wildlife Service, BLM and other out of control bureaucracies.

In a Facebook Live video Thursday morning, Nugent added that he was invited to the White House by Trump himself. "I was moved by the genuine sincerity, down-to-earth and most importantly believable concern and openness, uninhibitedness, family attitude, and spirit of President Trump when he greeted us at the White House," he said.
"It was down to earth and absolutely human," Nugent added, as he and his wife, an "ambassador for healthy living," flew home on a private jet to be with their dogs.
Kid Rock, who sold shirts last year suggesting that Trump's "D" was in the mouths of his haters, hasn't yet provided any social-media updates on the trip. His latest post is about how he prefers to smoke homegrown weed.