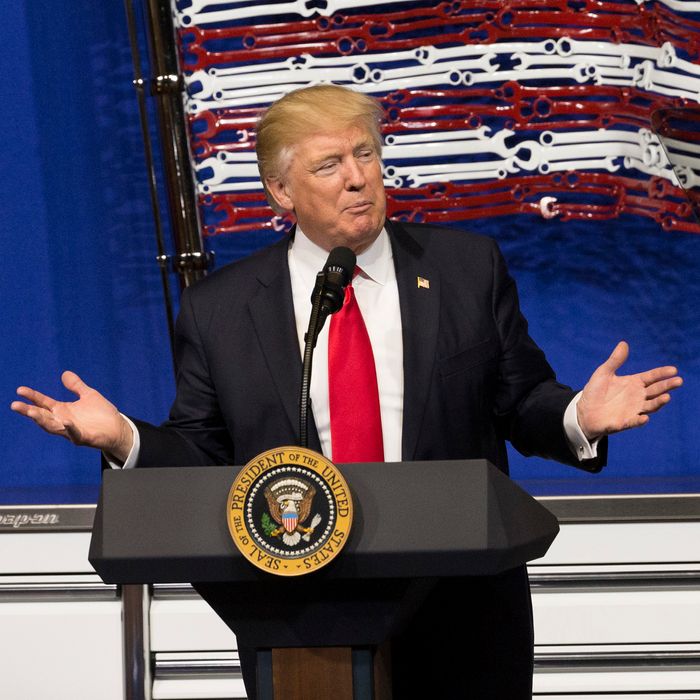 President Trump visits Snap-on Inc. in Kenosha, Wisconsin, on April 18, 2017.
Photo: Mark Hoffman/TNS via Getty Images
Jared Kushner and the rest of Team Trump's so-called globalists seemed ascendant in recent weeks, but that changed on Wednesday morning. Following a string of smaller trade-related victories for Steve Bannon and his motley crew of White House nationalists, administration officials said Trump was considering a draft executive order that would accomplish one of their top goals: announcing that America intends to withdraw from NAFTA.
It lasted about 12 hours.
Late on Wednesday, the White House said Trump told his Canadian and Mexican counterparts that he does not intend to pull out of NAFTA after all. According to a readout of his "pleasant and productive" calls with Canadian prime minister Justin Trudeau and Mexican president Enrique Peña Nieto, Trump "agreed not to terminate NAFTA at this time and the leaders agreed to proceed swiftly, according to their required internal procedures, to enable the renegotiation of the NAFTA deal to the benefit of all three countries."
From the start, it appeared that floating the withdrawal from NAFTA was a negotiating tactic. As New York's Eric Levitz noted, "Pulling out altogether would create so much economic uncertainty — and opposition from within the GOP and corporate America — it's almost unthinkable that the White House would go through with it."
The reversal isn't a surprise, but it's unclear why it happened so comically fast. Is the Trump administration tidying up after a proposal leaked by warring White House factions sparked a harsh backlash, or was this part of the plan all along?
According to Bloomberg, there was indeed infighting among White House staffers on how to address Trump's frequent campaign promise to renegotiate or withdraw from NAFTA. And like many of the Trump administration's befuddling moves in recent days, Wednesday's drama might have been sparked by the president's 100th day in office:
Trump's top advisers had been embroiled in a debate over how aggressively to proceed on reshaping U.S. participation in Nafta, with hard-liners favoring a threatened withdrawal as soon as this week and others advocating for a more measured approach to reopening negotiations with Canada and Mexico.

Some of Trump's advisers wanted a dramatic move before Trump's 100th day in office on Saturday to fulfill a key campaign promise, while others said he could let the milestone pass and revisit the issue later through more formal procedures, according to two White House officials who spoke on condition of anonymity to discuss internal deliberations.
Wednesday's leak definitely sparked drama, with lawmakers from both parties blasting the move. Republican Senator Ben Sasse called it a "disastrously bad idea," and both of Arizona's Republican senators agreed:
The New York Times reported that the threat of withdrawal from NAFTA was meant to "increase pressure on Congress to authorize new negotiations, and on Canada and Mexico to accede to American demands." It's possible the Trump administration backed off because they felt they'd already accomplished those goals.
The Mexican peso, the Canadian dollar, and shares of companies that rely on NAFTA all dropped on Wednesday, with the currencies bouncing back after the late-night reversal. Trump may feel the show of strength put him in a better negotiating position, but it wasn't a necessary step for bringing Canada and Mexico to the negotiating table. Per the Times:
Both Mexican and Canadian officials have said repeatedly that they are ready to negotiate changes to the trade agreement. Written in the early 1990s, it is outdated in key respects: Its drafters, for example, did not foresee the rise of the internet.

"Canada is ready to come to the table at any time," Alex Lawrence, a spokesman for the Canadian foreign minister, Chrystia Freeland, told Reuters on Wednesday.
Mexico is anxious to get the negotiations finished by early 2018 because it has presidential elections in July of that year, and it's unclear if the new administration will be willing to talk. "It will be in the best advantage of the countries involved that we finish this negotiation within the context of this year," Mexico's economic minister, Ildefonso Guajardo, told CNNMoney earlier this month.
The talks can't begin until August at the earliest because the Trump administration has to give Congress 90-days notice under the guidelines for renegotiating NAFTA. Plus, the notification must come from Trump's trade representative, Robert Lighthizer. His confirmation has been held up over work he did for China and Brazil.
While Trump tends to focus his NAFTA-related wrath on Mexico, and now Canada's lumber and dairy industry, last week he acknowledged that Congress – which is controlled by members of his own party – is holding up the process.
"We want to start to negotiate with Mexico immediately, and we have these provisions where you have to wait long periods of time," Trump said while touring a factory in Wisconsin. "The whole thing is ridiculous."