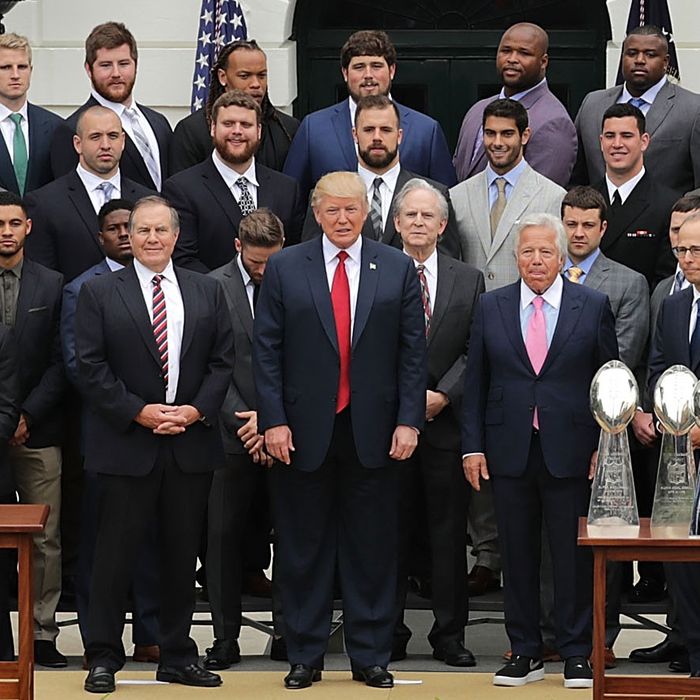 Trump and the Pats.
Photo: Chip Somodevilla/Getty Images
If the attendance flap after President Trump's inauguration didn't already make it obvious, the latest @RealDonaldTrump tweet should remove all doubt: We're doomed to spend the next four years comparing Trump's crowd sizes to President Obama's.
The "big lie" he's referring to was a more of a dumb mistake and it was made yesterday on the Twitter account for the Times sports section. After Trump finished a White House ceremony with the Super Bowl champion New England Patriots, this tweet went viral.
But as the Patriot's official Twitter account soon pointed out, there were substantial differences between the images compared above. For starters, the 2015 pictures shows the team's staff on the stairs. On Wednesday, they were seated on the South Lawn.
The team later tweeted a photo with the staff on the stairs and it didn't look much different from the 2015 pic.
That said, there were in fact fewer players at yesterday's ceremony than at the one held two years ago. Sixteen fewer, the Patriots said. But the team attributed that to the familiarity of such a ceremony. The last time the team won two Super Bowls in three years, 36 players attended the White House ceremony the second time around. There were 34 in attendance Wednesday.
That's not the whole story, of course. At least four players didn't attend explicitly because of Trump. Tom Brady, a "good friend" of Trump's, might have stayed home because of Trump, too. Of course, he stayed home in 2015 as well, so who knows with that guy.
The Times, which is constantly defending itself against Trump's attacks, fell on the sword on this one. At least, the editor who sent the tweet did. Here's a statement full of contrition.