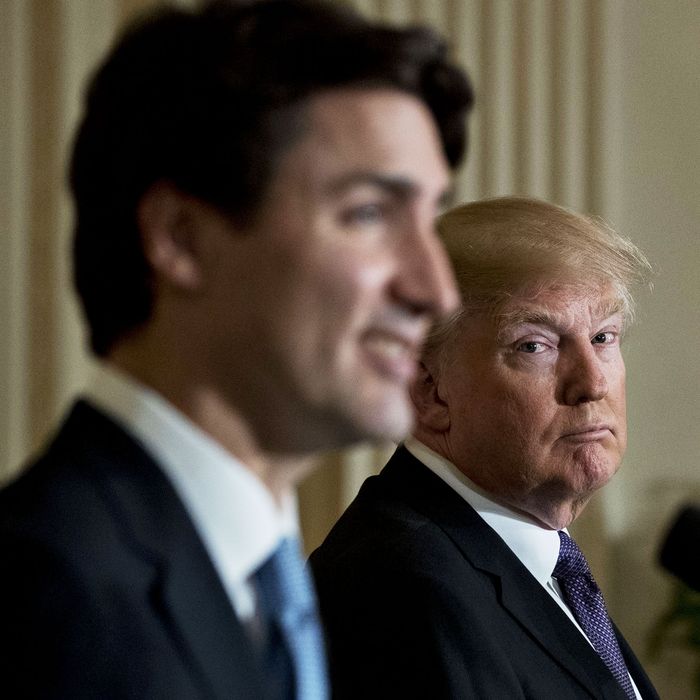 Blame Canada.
Photo: Andrew Harrer/Bloomberg via Getty Images
President Trump decided not to brand China a "currency manipulator." He stopped bugging Mexico about buying him a wall. But if those scheming Canucks think they can get away with flooding our market with their underpriced lumber and ultrafiltered milk, then they've got another thing coming!
On Monday, the Trump administration imposed new tariffs on Canadian softwood lumber, escalating a decades-old conflict with our neighbor to the north. The announcement came after the Commerce Department had concluded that Ottawa has been unfairly subsidizing its softwood lumber exporters, and negotiations between Washington and Ottawa failed to resolve the former's complaints.
Now, Canadian lumber exporters will be subject to tariffs ranging from 3 to 24 percent, depending on the amount of subsidy each producer enjoys from its government.
The Trump White House is far from the first to get hot and bothered over Canadian wood. As the New York Times explains:
The United States and Canada have been at odds over softwood lumber in one form or another since the 19th century, with the current dispute tracing back to 1982. The United States imported $5.7 billion in softwood lumber last year alone, mainly for residential home building.

At the conflict's heart is a fundamental difference in forestry ownership. In the United States, forest lands are largely held by lumber companies. In Canada, they tend to be owned by the government, and American mills contend that Canadian provinces subsidize their industries by charging low royalty rates for cutting trees. A temporary truce under President George W. Bush, which effectively limited Canadian exports to the United States, expired in 2015.
Thus, Trump's policy on this issue is less remarkable than the rhetorical belligerence with which his administration has approached a minor conflict with a core U.S. ally. Or, as the Toronto Star put it, "what wasn't expected Monday was the enthusiasm with which the new American administration flung itself into the lumber hostilities."
"It has been a bad week for U.S.-Canada trade relations," Commerce Secretary Wilbur Ross said in a statement, linking the lumber issue to the administration's broader dissatisfaction with the North American Free Trade Agreement. "This is not our idea of a properly functioning free trade agreement."
Canada's reply: Sorry, not sorry.
"The Government of Canada strongly disagrees with (this) decision to impose an unfair and punitive duty," Natural Resources minister Jim Carr said Monday. "The accusations are baseless and unfounded."
The White House's posture on the U.S.-Canada dairy dispute has been even more strident.
"What they've done to our dairy farm workers is a disgrace. It's a disgrace," Trump said of Canada's subsidized dairy exports. As Business Insider explains, this, too, has long been a point of tension between Washington and Ottawa:
Americans have long been complaining about Canadian dairy production. The country uses a supply management system to regulate dairy production and pricing, and it provides regular quotas that monitor supply and demand and helps prevent surpluses and deficits.

Last year, Canada implemented a policy that created a new class of milk prices for ultra-filtered milk, a liquid, high-protein concentrate sometimes used to make products such as cheese and yogurt. Canada lowered the prices for this milk class, so as to incentivize domestic ultra-filtered milk and better compete with the US-produced imports.

The American dairy industry did not take kindly to these developments, and argued that the policy violates NAFTA. The Canadian dairy industry has shot back that the milk reclassification policy did not change import rules nor did it impose any import taxes.
American politicians from both parties, including Barack Obama, have implored Canada to change its milk policies. But none have done so with quite as much virtriol as the current president.
The Canadian government is expected to respond to the lumber tariffs by directing further aid to its newly embattled exporters, while contesting the duties' legality in court.
But the Canadians won't be the only ones working to combat Trump's tariffs. American homebuilders are quite happy to have access to Canada's cheap lumber. As the Times notes, a study last year by the National Association of Home Builders found that a 15 percent tariff would jack up the prices of new homes by 4.2 percent, while costing their industry 4,666 full-time jobs.