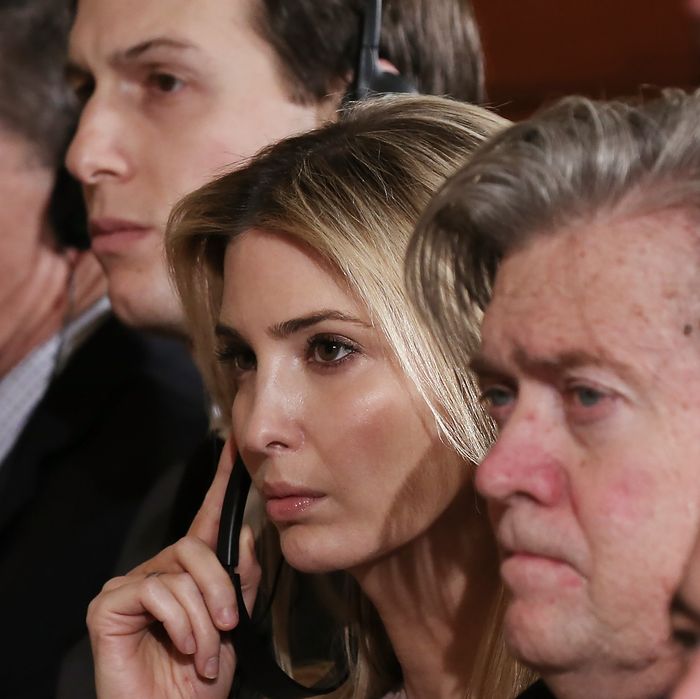 Not pictured: the person preventing Trump from being more presidential.
Photo: Mario Tama/Getty Images
If there were any lingering doubts about the winner of the feud between Steve Bannon and Jared Kushner, President Trump removed them on Wednesday by publicly describing the chief strategist as merely "a guy who works for me." While we know almost nothing about how our new "shadow president" sees the world, we are beginning to get an idea of Kushner's vision for the Trump administration.
Bannon has reportedly derided Kushner, Ivanka Trump, and their White House allies as "globalists" and "Democrats," and according to the New York Times many on the right worry that they represent "a slow and dangerous creep of liberalism into the administration." The strike on Syria, suggestions (or rather threats) that Trump will work with Democrats on health care, and a dizzying series of policy flip-flops on Wednesday have added fuel to this fear.
Jared and Ivanka have donated to Democratic candidates, and various reports have suggested (possibly for the benefit of their liberal friends back in New York) that they're secretly pushing Trump to accept climate change and protect LGBT rights. But over the weekend, Axios reported that their primary goal is to see a White House "driven by the interests of the president, not ideology." They see Bannon as "too inclined to want to burn things down and blow things up."
A new Washington Post report on Bannon's downfall says nothing about Ivanka voicing her disgust with the travel ban, or Jared passionately arguing against policies that would cause millions to lose their health care. Instead, the younger generation of Trumps is said to be concerned about what an administration marked by failure and dysfunction might do to their brand:
Trump's three oldest children — Donald Jr., Ivanka and Eric — and Kushner have been frustrated by the impression of chaos inside the White House and feel that their father has not always been served well by his senior staff, according to people with knowledge of their sentiments. The Trump heirs are interested in any changes that might help resuscitate the presidency and preserve the family's name at a time when they are trying to expand the Trump Organization's portfolio of hotels.

"The fundamental assessment is that if they want to win the White House in 2020, they're not going to do it the way they did in 2016, because the family brand would not sustain the collateral damage," said one well-connected Republican operative, speaking on the condition of anonymity to discuss the president's family. "It would be so protectionist, nationalist and backward-looking that they'd only be able to build in Oklahoma City or the Ozarks."
So their hope is that by reigning in the Bannonites, their father's presidency — and their business interests — will seem more stable and successful. In other words, they're pushing for the "pivot" that many have been looking for since Trump promised during the primaries: "At some point, I'm going to be so presidential that you people will be so bored."
Though President Trump seems to have forgotten their history, when Bannon joined his campaign in late August, it was seen as a rebuke of former campaign manager Paul Manafort's efforts to turn Trump into a more traditional candidate. Bannon may have encouraged Trump's combative, nationalist tendencies, but he isn't the reason that the Trump "pivot" is a mirage.
As NPR's Domenico Montanaro noted when President Trump "pivoted" during his joint address to Congress, only to accuse President Obama of wiretapping him days later, Trump himself has explained that while he could "be the most presidential candidate in history, other than honest Abe Lincoln," he feels compelled to respond whenever he feels threatened or ignored.
"When I get attacked by these people at a low level, I have to attack back. I can't stand it," Trump said during a press conference about a year ago. "Some people say, you're above it, you should stand it. That's not me. I won't do it. And you know what? I'll never do that for our country, either."
If any Trumps pivot for good, it's more likely to be the kids embracing their new building projects in Oklahoma City and the Ozarks.