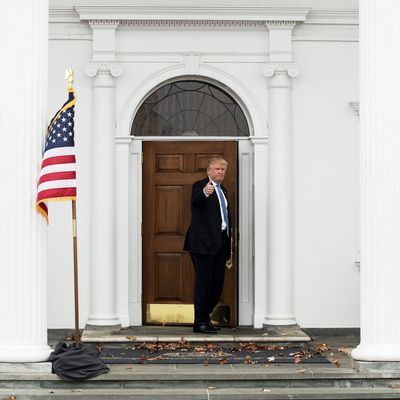 Trump in Bedminster last November.
Photo: Drew Angerer/Getty Images
President Trump's well-known preference for spending his weekends outside of Washington will soon hit a snag, when Mar-a-Lago, his Palm Beach resort, shuts down for the summer season. The president isn't planning to spend more time in the lonely White House residence though. He's going to start weekending in New Jersey instead, Politico reports.
If Mar-a-Lago was the winter White House, all indications point to Trump National Golf Club in Bedminster, New Jersey, serving as its summer counterpart. That's already got local residents spooked.
Last year, Bedminster got a taste of what it would be like to have Trump in town, when he holed up in the club to interview potential cabinet members and humiliate Mitt Romney. Street closures created headaches, and those that remained open were snarled with traffic as the local government was forced to pay out thousands in overtime to police.
While it's unclear how often Trump will visit Bedminster and what effect it will have on the small town, complaints about the mounting bill for his weekends away from the White House are sure to continue. It's not just his political opponents knocking the president for this either.
"I do wish that he would spend more time in Washington, D.C. That's what we have the White House for," Republican senator Joni Ernst said in Iowa Tuesday. She said Trump's frequent visits to Florida have "been bothering not just me, but some other members of our caucus," and added that she intends to talk to Trump about it.
Don't expect Trump to back down on this one, though. Bedminster is where the "special people" are, as he said last year. Trump loves this place so much he once planned to spend all of eternity there. That is, until local officials denied his request to build a 19-foot-tall stone mausoleum in the middle of his golf course.