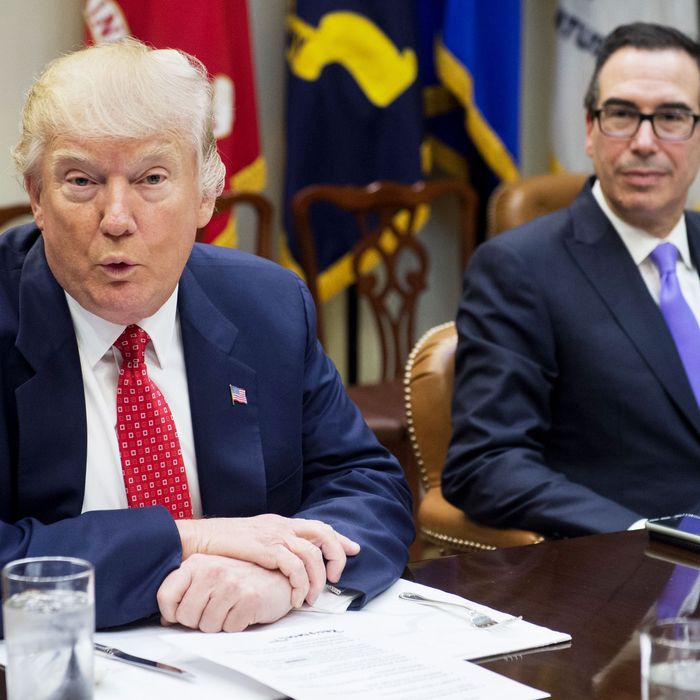 Plutocrats first.
Photo: Saul Loeb/AFP/Getty Images
President Trump likes playing the role of the economic nationalist. He loves railing against the traitorous corporate fat cats who sent our jobs overseas; lambasting the low-energy politicians who sold out our "forgotten men and women" to the Chinese; and saying the phrases America First, Buy American, and Fair Trade over the roar of grateful crowds.
But Trump also likes getting his policy advice almost exclusively from veterans of Goldman Sachs — and campaign contributions from international corporations.
These disparate tastes have produced plenty of conflicts. But after a rocky first month of travel bans and tariff threats, the president seems to have settled on a surefire strategy for reconciling his competing instincts: Be nationalist enough to afflict the powerless, but pragmatic enough to comfort the powerful.
Branding China a currency manipulator would be bad for Steve Schwarzman's portfolio. So Trump opted to go globalist on that score. Terrorizing undocumented victims of domestic violence, on the other hand, hurts no one Trump admires or takes money from. So the populist president is letting I.C.E. do its thing.
Similarly: A trade war with Mexico would get Gary Cohn's friends sweating in their C-suites; deporting some "Dreamers" would not. So, no one's ripping up Nafta, and Steve King is lifting a glass to "Border Patrol."
This week, Trump made some noises that would seem to fly in the face of this cynical narrative. The president's Buy American, Hire American executive order was heralded as Steve Bannon's comeback — a measure that put economic nationalism ahead of diplomatic relations with China or the tech industry's labor demands. But as The New Yorker's Adam Davidson notes, it's not clear what Trump's order actually does:
The order states that "it shall be the policy of the executive branch to maximize, consistent with law … the use of goods, products, and materials produced in the United States" without setting any measurable definition of "maximize." This is followed by a confusing timeline—in sixty days, the Secretary of Commerce will lead a team, advised by the Secretary of State and others, that will issue guidance. Then, within a hundred and fifty days, the heads of agencies will explain what they are doing in keeping with that guidance. Sometime in mid-September, we will (or we won't) hear what the hundreds of agencies in the federal government are doing to meet a confusing mandate, with no obvious targets, that will (or won't) mean that more Americans have jobs.
One could argue that the order's lack of detail says less about the sincerity of the administration's economic nationalism than it does about the White House's storied incompetence.
But, on Friday, the president signaled his commitment to putting plutocrats first. As The Wall Street Journal reports:
President Donald Trump will sign three documents Friday to advance his administration's push to reduce tax and regulatory burdens, including a measure that could roll back Obama administration efforts to prevent U.S. companies from shifting operations overseas to avoid taxes, administration officials said late Thursday.

One executive order to be signed at the U.S. Treasury will direct Treasury Secretary Steven Mnuchin to review all tax regulations the department issued last year to examine whether any impose excessive financial burdens on U.S. taxpayers or add complexity to the tax code.

The review could cover regulations the Obama administration issued last year to crack down on inversions, in which U.S. companies take up foreign addresses through mergers with other firms to cut their tax bills.
So, what "excessive financial burdens" does discouraging corporate inversions impose on U.S. taxpayers? Government estimates project that Obama's tax rules will provide the Internal Revenue Service an additional $460 to $600 million every year.
Granted, Mnuchin has not yet made an official decision on those rules. But as of now, Trump's economic credo appears to be: Buy American, hire American — but feel free to "relocate" overseas to avoid paying American taxes.