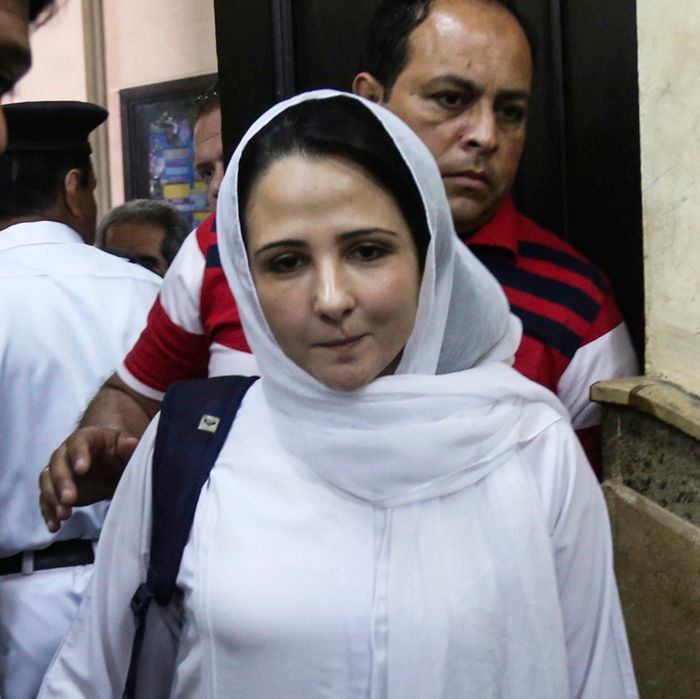 Aya Hijazi after she was acquitted by an Egyptian court on April 16, 2017.
Photo: Mohamed el Raai/AP
Earlier this month, President Trump welcomed Egyptian president Abdel Fattah el-Sisi to the White House for the first time, praising him for doing a "fantastic job in a difficult situation." Sisi came to power through a military coup in 2013, and the Obama administration had barred him from the White House for human-rights abuses.
Last weekend, Egyptian-American aid worker Aya Hijazi, who had become an international symbol of Sisi's harsh crackdown on aid groups, was cleared of child-abuse and human-trafficking charges in Cairo after three years in detention.
The 30-year-old, who grew up in Falls Church, Virginia, had established a foundation to aid street children in Cairo along with her husband, Mohamed Hassanein, who is Egyptian. Human rights groups said the charges against them were not credible, and their hearing and trial dates were repeatedly canceled and postponed with no explanation. Hassanein and others arrested with the couple were released on Wednesday.
Late on Thursday night, the Washington Post reported that the Trump administration had quietly negotiated with Egypt to secure their release, and Hijazi and Hassanein had just landed at Joint Base Andrews aboard a government jet.
Hijazi and her brother, Basel, are scheduled to visit the White House on Friday, where they will meet with President Trump, his daughter Ivanka Trump, and her husband, Jared Kushner, who officials said had been following her story.
"We're very grateful that President Trump personally engaged with the issue," Basel Hijazi told the Post. "Working closely with the Trump administration was very important for my family at this critical time. It let us be reunited as a family. We're so grateful."
The Obama administration had unsuccessfully pushed for Hijazi's release, and at times her family complained that they weren't doing enough. Trump set out to reset relations with Egypt, and there was no public mention of Hijazi or human-rights abuses during Sisi's White House visit.
However, a senior administration official told the Post that behind the scenes, President Trump told top aides, "I want her to come home." The official said there was no quid pro quo offered for her release, but the Trump administration had received assurances from Sisi's government that "whatever the verdict was, Egypt would use presidential authority to send her home."
Trump sent a military aircraft to Cairo to bring Hijazi and Hassanein back to the U.S. They were escorted by Deputy National Security Adviser Dina Powell, who is Egyptian-American and had already planned to visit the Middle East this week with Defense Secretary James Mattis.
According to the New York Times, during Sisi's visit the White House felt confident that Hijazi would be released, but "they chose to take what they knew would be criticism in the news media and from political critics for not publicly mentioning her case." Aides reportedly see the case as vindication of Trump's diplomatic approach.
The Trump administration has faced criticism in recent weeks for being vague and inconsistent on foreign policy matters. A number of analysts concluded that there is no coherent "Trump Doctrine," but a top administration official described the president's diplomatic philosophy to the Post:
The senior Trump administration official said the agreement for Hijazi's release was the product of Trump's "discreet diplomacy" — meaning the president's efforts to cultivate warm relations with strongmen such as Sissi and Chinese President Xi Jinping, in part by avoiding public pronouncements on human rights that might alienate the foreign governments.
Antony Blinken, the former deputy secretary of State under President Obama, said that while he's pleased Hijazi has been released, he's skeptical that Sisi received nothing in return for her freedom. He told the Post that the White House offering public support for strongmen like Sisi could "have the opposite effect of simply reinforcing [Sisi's] crackdown at home, in a way I think someday is going to rebound against him, and probably rebound against us. … You can try to repress your problems away, but at some point, they will explode."
According to Reuters, human-rights groups estimate that Sisi's government has detained at least 40,000 political prisoners.