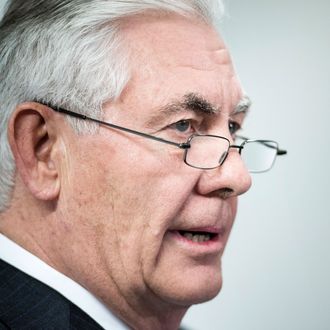 Rex Tillerson.
Photo: Brendan Smialowski/AFP/Getty Images
During the campaign, President Trump repeatedly called the 2015 Iran nuclear deal a "disaster," vowing to tear it up and "double and triple up sanctions." Earlier this month, he described it as "one of the worst deals I've ever witnessed," but he promised, "I will do what I have to do with respect to the Iran deal."
It wasn't clear at the time, but apparently that meant his administration will keep the deal while it considers whether it should be torn up down the road.
Late on Tuesday, Secretary of State Rex Tillerson sent a letter to House Speaker Paul Ryan saying that Iran is complying with the terms of the agreement to curb its nuclear program. Under the deal, the State Department must update Congress on Iran's compliance every 90 days.
Tillerson's letter went on to note that while Iran is holding up it's end of the bargain, it "remains a leading state sponsor of terror, through many platforms and methods." He said President Trump has directed the National Security Council to lead an interagency review to determine whether the deal is "vital to the national security interests of the United States."
As NBC News notes, when the U.S., China, Russia, France, Germany, and the United Kingdom were negotiating the deal, they set aside Iran's alleged support for terrorism because preventing them from building a nuclear bomb was seen as the more pressing matter.
On Monday, a senior White House official told Foreign Policy that the administration is leaning toward adopting "more rigorous application of the tools at its disposal" on Iran. That could mean "incredibly strict implementation" of the nuclear deal, such as holding Iran accountable for even minor breaches of the agreement. Another option is expanding sanctions linked to the Islamic Revolutionary Guard Corps, which the Trump administration is considering designating as a terrorist organization.
New sanctions could be implemented without violating the terms of the deal, but such moves could push Tehran to pull out of the agreement. "It all really comes down to whether the people making decisions agree that the [nuclear deal] is worth keeping," said Richard Nephew, the leading U.S. sanctions expert on the team that negotiated the accord.