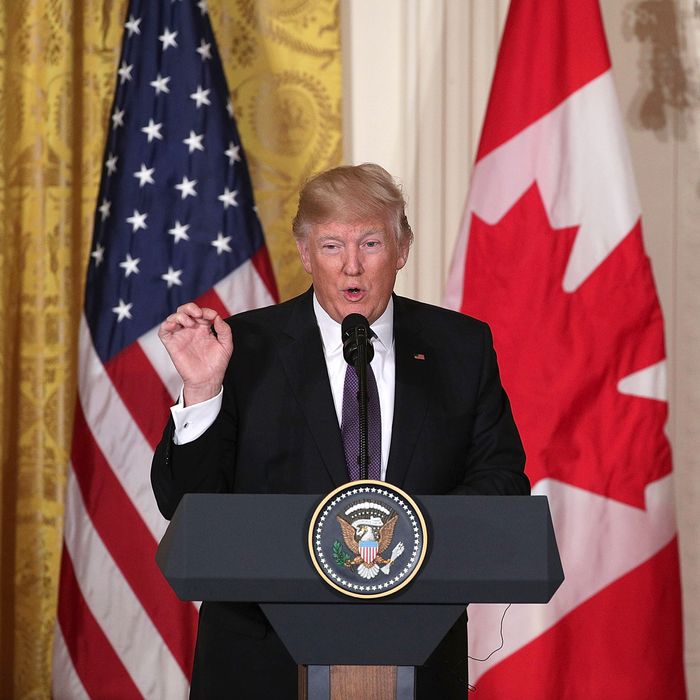 Next time bring some maps, Trudeau.
Photo: Alex Wong/Getty Images
On Wednesday the White House went from suggesting that President Trump would withdraw from NAFTA to announcing that he'd merely renegotiate the trade deal in just 12 hours. On Thursday, several news outlets ran lengthy reports that dissect why the Trump administration decided to rattle the markets and cause panic among business leaders and officials in Canada and Mexico.
According to the New York Times, Trump officials have suggested that the confusion was a win for the president, as he managed to bring our neighbors to the negotiating table. But it's Congress, not Canada and Mexico, that's holding up the process, and remarks from the president himself suggest that this wasn't a carefully plotted negotiation tactic.
Advisers said Trump wanted to be able to announce he was making good on a major campaign promise during a rally in Harrisburg, Pennsylvania, on Saturday night, his 100th day in office. Canada and Mexico were blindsided by reports that Trump intended to back out of NAFTA, and business leaders rallied against the move. While trade adviser Peter Navarro and chief strategist Steve Bannon cheered Trump on, other top advisers like Jared Kushner scrambled to talk the president out of it.
They were ultimately successful, possibly because they made their argument by discussing Trump's election victory. Per the Washington Post:
[Agriculture Secretary Sonny] Perdue even brought along a prop to the Oval Office: A map of the United States that illustrated the areas that would be hardest hit, particularly from agriculture and manufacturing losses, and highlighting that many of those states and counties were "Trump country" communities that had voted for the president in November.

"It shows that I do have a very big farmer base, which is good," Trump recalled. "They like Trump, but I like them, and I'm going to help them."
So the president reversed his decision because he feels he has to help out the areas of the country that voted for him. It appears he was also swayed by conversations with the leaders of Canada and Mexico, though a senior administration official said he'd already cooled on the idea by the time they called.
Recalling his late Wednesday conversation with Mexican President Enrique Peña Nieto, Trump said, "He said to me, 'I would really appreciate if we could negotiate instead of you terminating, because terminating sets a lot of things in motion that could be pretty devastating for a lot of people.' "
Trump emphasized to several reporters that earlier in the day he was serious about ending the trade deal. "You know I was really ready and psyched to terminate NAFTA," he told Reuters. "I was all set to terminate," he said in his Post interview. "I looked forward to terminating. I was going to do it." He even had Kushner back him up.
In the Oval Office interview, however, Trump repeatedly insisted that he was ready to pull out of NAFTA. At one point, he turned to Kushner, who was standing near his desk, and asked, "Was I ready to terminate NAFTA?"

"Yeah," Kushner said, before explaining the case he made to the president: "I said, 'Look, there's plusses and minuses to doing it,' and either way he would have ended up in a good place."
Kushner's Zen stance on the fate of a trade deal that affects millions of people may seem a bit weird, but as President Trump told The Wall Street Journal, we're all looking at the ideological rift in his administration the wrong way.
Mr. Trump dismissed talk about a split inside his White House between aides with a nationalist or globalist orientation. "Hey, I'm a nationalist and a globalist," he said. "I'm both. And I'm the only one who makes the decision, believe me."