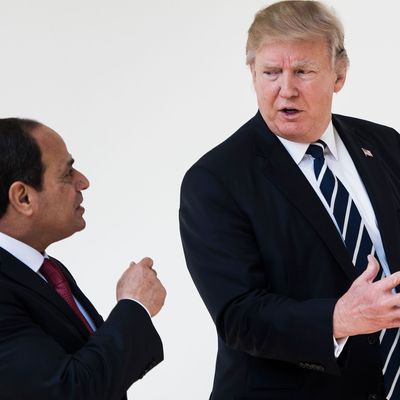 Egypt's President Abdel Fattah el-Sisi and President Donald Trump met on April 3 in Washington, D.C.
Photo: Brendan Smialowski/AFP/Getty Images
President Donald Trump welcomed Egyptian leader Abdel Fattah el-Sisi to the White House for the first time Monday, and the Oval Office handshake photo-op portion appears to have gone better than it did for Angela Merkel.
"I met [el-Sisi] during the campaign and at that point there were two of us," Trump said. "Hopefully you liked me a lot more."
Trump then lauded Sisi, who led a military coup to oust Egypt's president Mohamed Morsi in 2013, saying, "I want to let everybody know in case there was any doubt, we are very much behind President el-Sisi. He's done a fantastic job in a difficult situation. We are very much behind Egypt and the people of Egypt. The United States has backing, believe me, strong backing."
"I just want to say, Mr. President, that you have a great friend and ally in the United States, and me," Trump added.
This was el-Sisi's first official White House visit; Barack Obama never extended an invite to the Egyptian leader during his tenure over concerns about his strongman leadership and potential human-rights violations. Obama temporarily cut off military aid to the Egyptian military in 2013, though he lifted that moratorium in 2015, allowing Egypt to once again receive equipment and $1.3 billion from the United States.
White House officials said Trump sees this White House visit as a "reboot" with el-Sisi, one that involves not publicly chastising the Egyptian leader about human-rights concerns.
El-Sisi echoed the sentiments and thanked the United States for its commitment to fighting "this evil ideology," referring to ISIS and other Sunni extremists. He also assured Trump, "I've had a deep appreciation and admiration of your unique personality."