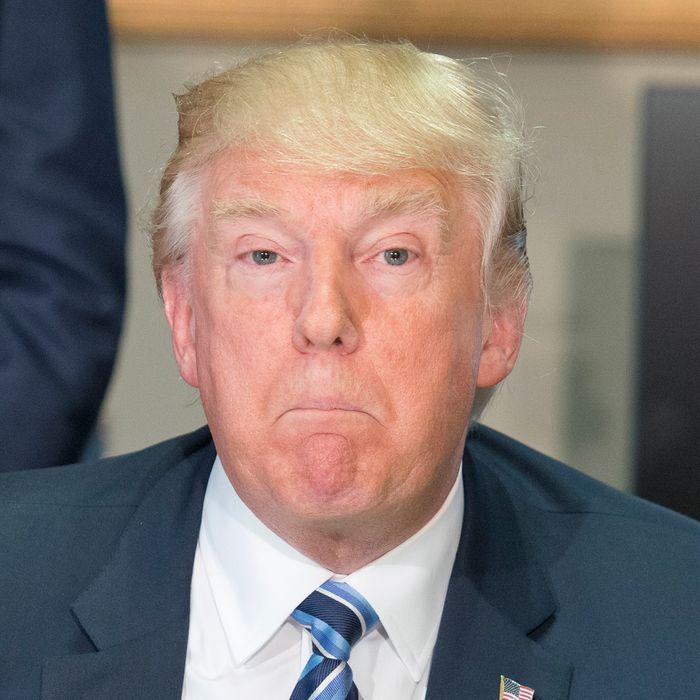 Trump's first big report card is in.
Photo: Ron Sachs/Pool/Getty Images
Ninety-six percent of Americans who voted to elect President Trump would make the same decision again today, but only 42 percent of Americans approve of his handling of the job so far, according to a new ABC News/Washington Post poll published on Sunday. In the results of another new poll from NBC News and The Wall Street Journal, 45 percent of Americans say that Trump is off to a "poor" start, while only 40 percent of that poll's respondents approve of Trump's overall job performance (compared with 54 percent who disapprove). Either way, after nearly 100 days in office, Trump has earned the lowest approval rating of any U.S. president in the history of polls measuring early-term public opinion, and dissatisfaction with the president is increasing in a number of ways.
As a more recent example, looking at the performances of the last three presidents in the NBC/WSJ poll, Trump's 42 percent approval rating lags significantly behind Obama (61 percent), George W. Bush (56 percent), and Bill Clinton (52 percent). In the ABC/WaPo poll history, Trump's 40 percent is way behind the 69 percent average approval rating that past presidents had earned near their 100-day mark.
But again, when just looking at Trump voters, only 2 percent of respondents in the ABC/WaPo poll feel regret over their decision, so the president is clearly still getting their benefit of their doubt. Unsurprisingly, almost all opinions about Trump continue to be sharply divided along partisan lines, but disapproval of Trump among independent Americans continues to rise: The gap between the majority of independents who disapprove of Trump's performance vs approve of it is now 24 points in the NBC/WSJ poll, vs 9 points in February.
Another interesting takeaway from the NBC/WSJ poll which doesn't bode well for Trump or the Republican Party is that 57 percent of Americans now believe that "government should do more to solve problems and help meet people's needs" — the highest number to say so since the poll first posed the question in 1995.
More bad news for Trump:
• Fifty-six percent of Americans think Trump has accomplished "not much or nothing" so far in his presidency. (ABC/WaPo)
• Six-in-ten Americans doubt Trump's honesty and trustworthiness, think he's out of touch, and don't think he understands their problems (ABC/WaPo). Trump's out-of-touch numbers get worse based on how young the respondent is, and his trustworthiness numbers are also low in the NBC/WSJ poll.
• Fifty-two percent of Americans say that Trump's leadership and plans make them feel more doubtful about the country's future, compared with 46 percent who feel more hopeful. At this same point in Obama's presidency, 64 percent thought his leadership and plans made them more hopeful. (NBC/WSJ)
• The percentages of Americans who think Trump is being firm in his decision-making, changing business as usual in D.C., or getting things done, are all dropping. (NBC/WSJ)
• Sixty-one percent of Americans disapprove of Trump's installation of his daughter Ivanka and son-in-law Jared Kushner into major positions in his administration. Thirty-four percent approve of the job placements, including 69 percent of Republicans. (ABC/WaPo)
• Fifty percent of voters disapprove of Trump's proposed federal spending cuts in the ABC/WaPo poll (37 percent approve).
• Fifty-eight percent of voters believe that the federal courts have been "acting rightly as a check on the president's powers" with regards to Trump's travel-ban executive orders. (ABC/WaPo)
What can pass as good news for Trump:
• A majority of Republicans still support him and approve of his performance in both polls, and as previously mentioned, his supporters don't have any regrets about voting for him, according to one poll.
• While only 40 percent of Americans give a thumbs-up to Trump's overall foreign-policy performance (NBC/WSJ), some of his individual decisions have been more well-received. Sixty-two percent of Americans (including 88 percent of Republicans and 58 percent of independents) said they supported Trump's recent Syria strike in the NBC/WSJ poll, compared with 51 percent in the ABC/WaPo poll. The NBC/WSJ poll says that 50 percent of Americans approve of Trump's overall handling of Syria, while ABC/WaPo poll says that 46 percent approve of Trump's handling of North Korea, so far.
• The public is mostly split on whether or not Trump is keeping his campaign promises (ABC/WaPo), and whether he is doing a good job handling the economy. (NBC/WSJ)
• Only 44 percent of respondents to the NBC/WSJ poll say Trump has been less effective than his predecessors at this point in their respective presidencies. (Twenty-two percent say it's been the same, and 32 percent say he's been more effective.)
• Fifty-four percent of Americans don't have a problem with Trump's frequent, expensive trips to his own properties like the Mar-a-Lago resort in Florida, saying it's not a conflict of interest because the president should be allowed to go wherever he wants. (ABC/WaPo)
• Sixty-five percent of white men without a college education still approve of Trump, and he maintains a 54 percent approval rating from white Americans overall. (ABC/WaPo)
The Democratic Party isn't faring so well either:
• Sixty-seven percent of Americans believe the Democratic Party is out of touch with their concerns, vs. 62 percent who feel the same way about the GOP. Three years ago, only 48 percent of Americans thought the Democratic Party was out of touch. (ABC/WaPo)
• Only 85 percent of Americans who voted for Hillary Clinton say they would vote for her if the election were held again today, with the defectors more likely to vote for a third party candidate or not at all. (ABC/WaPo)