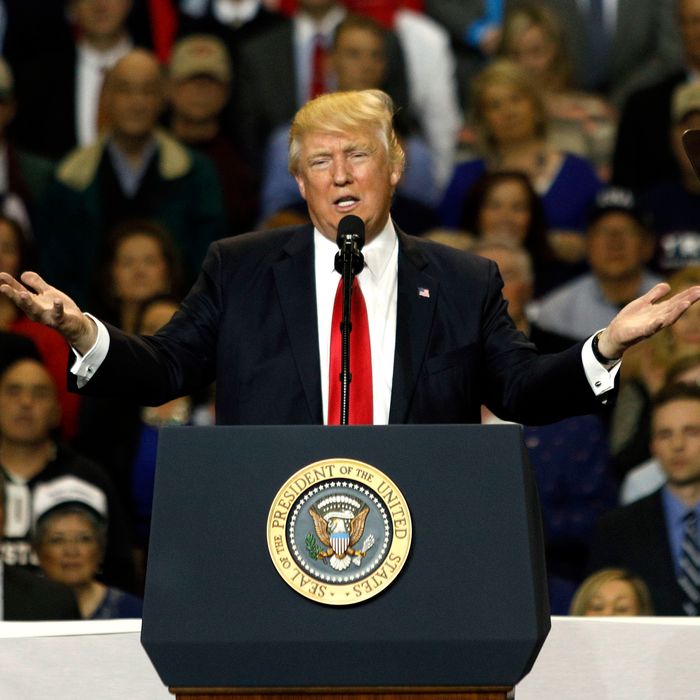 A Trump shruggie.
Photo: Bill Pugliano/Getty Images
President Donald Trump, instead of attending next weekend's White House Correspondents' Dinner in Washington, D.C., will instead compete with it by hosting yet another campaign-style rally for himself. Trump tweeted the news himself on Saturday, saying the Pennsylvania rally would be "BIG." The event will also mark Trump's 100th day in office, and according to a senior White House official who spoke with Politico, its purpose is to provide some counterprogramming to what is sure to be a barrage of negative media surrounding Trump's decidedly unproductive presidency. On track to not achieve a single one of his campaign-pledged accomplishments for the first 100 days, Trump called the metric a "ridiculous standard" on Friday.
"The media is trying to make this about them when — respectively it has nothing to do with you guys. It's about focusing on the people," the unnamed White House official claimed to Politico, though that is surely also a shot at the WHCA dinner, which White House staff members will also be skipping.
In February, Trump announced that he would not be attending the dinner, making him the first president to skip the annual event — which presidents usually headline — since President Reagan abstained in 1981 while recovering from an assassination attempt. (He still gave a speech by phone.)
Several media organizations had already planned to skip or scale back their participation in this year's dinner on account of Trump's toxic relationship with the press, but even after Trump bailed, the WHCA remained adamant that the tradition would continue regardless. They have lined up comedian and Daily Show contributor Hasan Minhaj to host Saturday's event, but even though Minhaj once called Trump "White ISIS" in a Daily Show segment and has joked that Trump's election was the 9/11 of white domestic terrorism, WHCA president Jeff Mason has insisted the organization's intent is not to "roast the president in absentia."
It's highly unlikely that Trump will make it through Saturday's rally without roasting the media in some way, especially after watching all the critical 100-day-related coverage on Saturday. But aside from considering the media "the enemy of the American people," Trump might also be skipping the event because he is probably the most thin-skinned president since at least Richard Nixon, and he's been targeted at the event before. Some have even theorized that President Obama and host Seth Myers's brutal roasting of Trump at the 2011 dinner were what made the reality-television star want to seriously run for president — though Trump has always maintained that he actually had a good time at the event and was flattered by the attention.