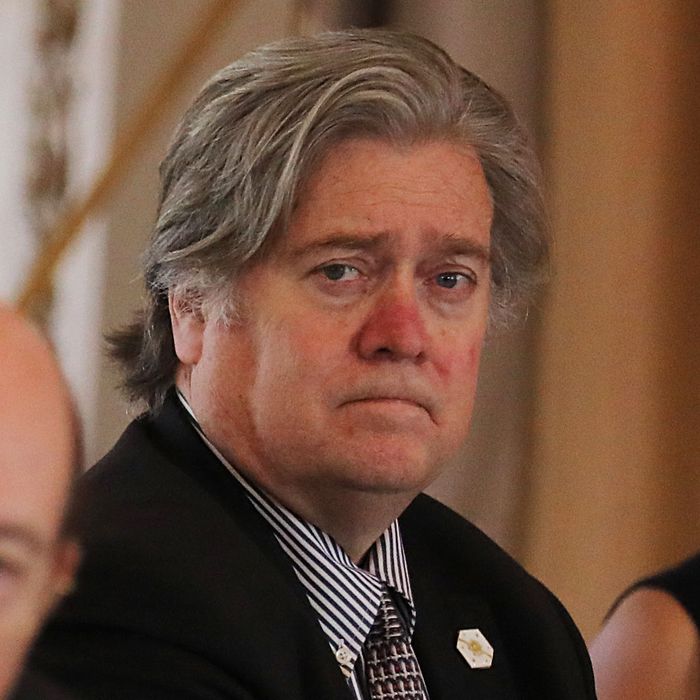 Steve Bannon in a meeting at Mar-a-Lago on Friday.
Photo: Carlos Barria/Reuters
Donald Trump's surprise decision to launch missile strikes against Syrian president Bashar al-Assad's forces in response to Tuesday's horrific chemical attack represented a reversal from Trump's noninterventionist campaign message. It's also the most recent sign of the declining power of his chief strategist Stephen Bannon. Two sources close to Bannon told me the former Breitbart executive chairman argued against the strike — not because of its questionable constitutionality, but on the grounds that it doesn't advance Trump's America First doctrine. "Steve doesn't think we belong there," one Bannon ally told me. Bannon's position lost out to those inside the White House, including Jared Kushner, who argued Trump needed to punish the Assad regime.
The debate over Syria is the latest fault line that has opened up in the once close Bannon-Kushner relationship. "During the campaign and transition, they had an almost uncle-nephew thing going," one Bannon associate said. But in recent weeks, Kushner and Bannon have clashed over the direction of Trump's agenda. While the press has covered it as a personality feud, Bannon allies say the rift is about policy differences. "The press is calling it fighting, we call it debating," Bannon told an associate, according to a source. On a board in his West Wing office, Bannon keeps a list of promises Trump made to populist voters. Kushner, whose portfolio has ballooned in recent weeks, seems much less interested in keeping those promises.
The power struggle is growing more personal. While Bannon declined to comment for this piece, Bannon allies inside and outside the White House say he is "disappointed" and blames Kushner, in part, for some of the damaging leaks about him. If before there were philosophical differences in the White House, now there are clearly defined camps: On one side are "the nationalists" Bannon, Stephen Miller, and Julia Hahn; and on the other are "the Democrats" Kushner, Ivanka Trump, and Gary Cohn. Bannon is growing increasingly frustrated with Cohn, sources say, and is particularly unhappy to be receiving much of the blame for the health-care debacle while Cohn, who was deeply involved in the effort, emerged unscathed. Health care was "100 percent Gary," one person close to Bannon said. During a recent White House meeting, when the subject of Cohn came up, Bannon reportedly told associates "I love a gunfight."
Despite his waning influence, Bannon recently told an ally that he won't quit. If Trump wants him out, he'll have to fire him.