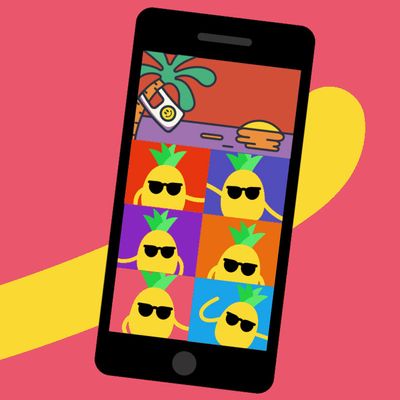 Tumblr — the charming, quirky, semi-struggling social network owned by Yahoo — launched a new video-chat app this morning. It's called Cabana, and with it, you and your friends can form a virtual room, fill it up, and hang out — or watch web videos together in real time. Just load it up, invite some friends, and pick something to stream. There's not much more to it. Cabana is out on iOS now, and will be available on Android next month.
If the concept for this sounds similar to Houseparty, the video-chat app that achieved a stealthy sort of popularity last year, that's because it is. (Hey, ripping off smaller apps wholesale seems to be working for Facebook. In addition to its current Snapchat obsession, the company added Houseparty-like features last winter.) The chat apps function as a low-stakes alternative to doing fully or quasi-public live streams for large groups of friends. The main differentiator for Cabana is the ability to watch a video together with five other people.
What jumps out the most about Cabana, an app ostensibly from Tumblr, is its lack of Tumblr integration. Fiddling around with it this morning, I was asked to sign in using my Yahoo credentials, not my Tumblr credentials, which remain separate. In addition, users can only add friends via searching for their Cabana user name, or by having their phone number in their contacts — there's no integration with Tumblr's existing messaging features or friends lists, as of now.
"Complementary to the core experience on Tumblr, Cabana strengthens the idea of community, entertainment and expression with a similar audience reach. Video is also the fastest growing medium on Tumblr," its marketing materials state. According to this morning's press release, the concept was developed by Polyvore Labs, an internal Yahoo incubator, and tested with Tumblr's core teenage audience.
It feels like the tech world's version of a backdoor pilot; a Yahoo (or Altaba? or Oath?) initiative Frankensteined onto its most colorful, youthful brand. Or maybe Tumblr — which has been plagued by reports of mismanagement by its corporate parent ever since the acquisition — is looking to pivot to a new business entirely.