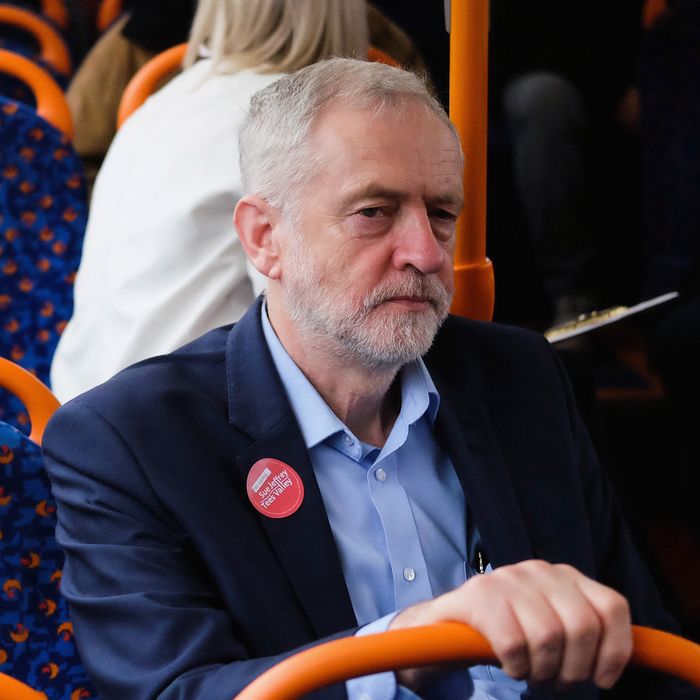 Is Labour's Jeremy Corbyn taking a ride to nowhere?
Photo: Ian Forsyth/Getty Images
So you think you have political problems with being out of power, Democrats? Are you worried your leader is too unpopular, Republicans? Well, put yourself in the place of U.K. Labour Party leader Jeremy Corbyn or his restive supporters, heading toward a June general election that could spell disaster, and you might not feel so bad.
One of the main reasons Prime Minister Theresa May decided to call this "snap" election was that her opponents are in various degrees of disarray. The Liberal Democrats might make some noise as Britain's only unambiguously anti-Brexit party. But they are beginning at such a low point after their disastrous showing in the last election, in 2015, that even major gains would keep them marginal. And some feel their current leader, Tim Farron, a conservative evangelical, is a poor match for a party whose membership has always been in the vanguard of social liberalism. The once ominously growing UKIP seems to have lost its reason to live after Brexit. It has in recent months lost its leader, Nigel Farage, who decamped for a transatlantic media career, and its only member of Parliament. And the Scottish Nationalists pretty much maxed out their potential seats in Parliament in 2015 and probably have nowhere to go but down.
But it's the main opposition party, Labour, whose travails are most comforting to May and her Tories. Polls are now consistently showing a 20-point-plus gap between the Conservative and Labour parties in voter preference, a huge Tory advantage by British standards. One very recent poll showed Corbyn's net approval rating at minus-34, a number that by comparison makes Donald Trump look like a very popular man.
Corbyn ascended to the top of his party on the basis of strong support from Labour's left-leaning rank-and-file activists, who play a disproportionate role in party leadership elections. Never a favorite of Labour pols in Parliament, particularly the remnant of Tony Blair's once-dominant New Labour faction, Corbyn outraged a lot of them by staying semi-neutral on Brexit. After he survived an attempted coup last year that cost him much of his Shadow Cabinet, Corbyn has not impressed too many people with his messaging skills. Like his American counterpart Bernie Sanders, he has a closetful of old radical associations that don't come off so well in a leadership role. And so, his party is split and seems irresolute.
A poll early this week showed how dire Labour's leadership crisis has become: Offered a choice of Corbyn or May to lead Britain, only 45 percent of self-identified Labour voters chose Corbyn (16 percent chose May, 30 percent rejected both, 9 percent were unsure). Among voters generally, only 14 percent preferred Corbyn to May; 47 percent preferred May.
Perhaps a general-election campaign will unite Labour and revive Corbyn's dismal standing. Conversely, some of his intraparty enemies clearly hope the results will force him out of the leadership. There's even one rumor that May called the election out of fear Corbyn would resign, potentially giving Labour a fresher and more effective leadership. Any way you slice it, Corbyn and his party are on trial as Britain's short and intense election season progresses.