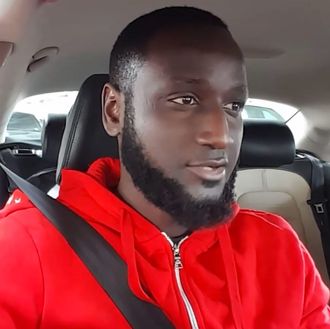 Happy Friday! Here's some more not-so-great Uber news, but this time it's not really Uber's fault. (Unlike the secret tracking software, culture of gender discrimination, that Google lawsuit, and recent string of top executive departures. Those were really Uber's fault.) The company has banned a rider after she screamed at her driver — threatening to accuse him of rape, and saying she'd punch herself in the face and say he did it — in a video the driver recorded via a dashboard camera. (Worth noting, the video begins midway through the ride.)
"Donald Trump going to send you and your family back," the woman yells at the driver. "Get the fuck out of my country." She also argues with him because he does not have an iPhone charger available for her to use, and pours juice over the back seat of the car. Eventually, she exits, after repeatedly telling the driver he is going to jail. After she exits the vehicle, the driver proceeds to talk at the camera, calling the rider a "stupid Bronx bitch." "Females, right? I'm not saying all the females though … some bitches like this," he says, adding that Uber drivers frequently experience out-of-control riders like this one. Which, while blatantly misogynistic, aren't the worst comments and threats hurled in the nearly nine-minute recording.
"The behavior in this video is abusive and completely unacceptable," an Uber spokesperson told the New York Post. "As our Community Guidelines make clear, this will not be tolerated by anyone who uses Uber. The rider's account has been banned and Uber is looking into this incident." The company did not identify the driver or the rider.