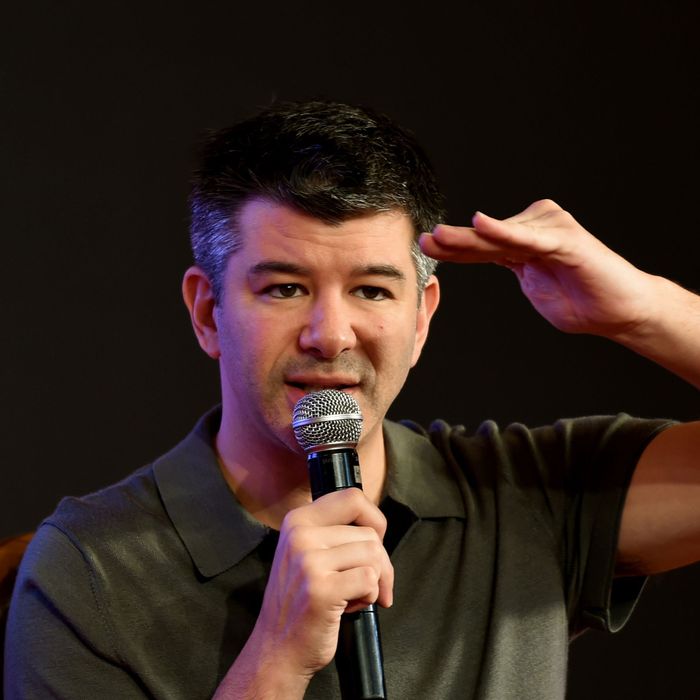 Travis Kalanick, Uber CEO.
Photo: Money Sharma/AFP/Getty Images
Following several stories from former employees — most notably, a detailed tell-all blog post from engineer Susan Fowler — citing a culture rampant with sexism and gender discrimination, Uber announced it would be conducting an independent review of the company. CEO Travis Kalanick hired former U.S. Attorney General Eric Holder to oversee the process. (It's worth noting that Holder works for the law firm Covington & Burling, which Uber keeps on retainer for handling other issues.) Other members of the review team include Uber board member Arianna Huffington, Uber's head of HR, and the company's in-house counsel. The independent investigation was, according to an email from Kalanick to his staff back in February, supposed to wrap up sometime in May; but according to another email, sent this week by Arianna Huffington and obtained by Recode, Holder and Tammy Albarrán (another lawyer from Covington & Burling) have requested more time.
From Huffington, via Recode:
When Eric Holder and Tammy Albarrán began their review, the Board subcommittee (consisting of David Bonderman, Bill Gurley, and myself) to which Eric and Tammy have been reporting on a weekly basis assured them that they would have all the support and time necessary to conduct an intensive, thorough review of Uber's workplace and culture. Eric and Tammy have now asked us for more time to complete their assessment, which includes information received from hundreds of employees through interviews and anonymous online focus groups and reflects the global scale of the company's operations. To ensure that no stone is left unturned, the Board subcommittee has granted that request and we anticipate the report by the end of May.
Based on the horror stories — like the female engineer who turned down an Uber recruiter only to have the recruiter insist that sexism is a problem everywhere, not just at Uber — it seems unlikely that Holder's findings will be particularly positive.