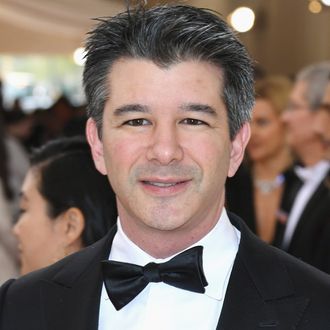 Uber CEO Travis Kalanick.
Photo: Larry Busacca/Getty Images
Another secret software program, known only to a select few ranking members of Uber, has been revealed in a new report from the Information. The program, known internally as "Hell" and shut down at the beginning of 2016, tracked drivers working for rival app Lyft, allowing Uber to figure out which drivers were working for both apps.
"Hell" (the antithesis of another program that tracked Uber drivers called "God View" or "Heaven") worked by creating a fake Lyft account, and then spoofing a location to see what drivers were in the area. Drivers on Lyft are also assigned a persistent ID number, allowing Uber to track when and where the most active drivers were. From the report:
In other words, Uber could see, nearly in real time, all of Lyft's drivers who were available for new rides — and where those drivers were located. That also allowed Uber to track the prices Lyft would offer to riders for certain trips, and how many cars were available to pick up riders at a particular time in one city or another.
Uber declined to comment on the software to the Information.
Uber's use of tracking software and its aggressive position toward Lyft are hardly new. At a party a couple years ago, Uber displayed the real-time locations of tech leaders as thy traveled in Ubers around the country. Earlier this year, the New York Times revealed "Greyball," a program for keeping tabs on government regulators. Uber also ran into scandal a couple years ago when it was revealed that employees were ordering Lyft's and then canceling them, in order to discourage drivers.
The "Hell" revelations open Uber up to potential legal action from Lyft, and all of this comes on top of the disastrous 2017 the company has been having, amid claims of a hostile, sexist work environment; an exodus of top talent; and open speculation about whether Kalanick is fit to continue serving as CEO.