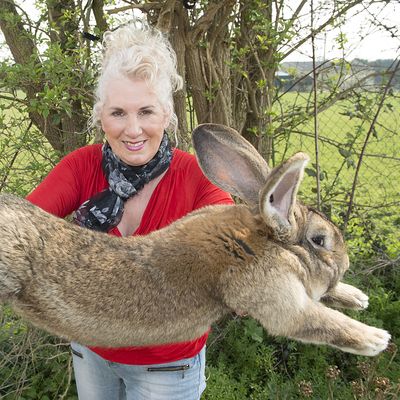 The deceased's record-holding dad, Darius.
Photo: Damien Mcfadden/ANL/REX/Shutterstock
United Airlines is having a rough month. The carrier is still reeling after a video of a passenger being forcibly dragged off an overbooked flight went viral earlier in April. Now it has a fresh PR disaster: the mysterious death of an enormous bunny.
Simon, the three-foot-long continental giant rabbit, allegedly died at some point after takeoff in the cargo hold of a United Airlines transcontinental flight, from London's Heathrow Airport to Chicago's O'Hare — the same airport where the passenger was pulled off the plane. The ten-month-old bunny got a vet checkup three hours before the flight and was, as his breeder, Annette Edwards, told The Sun, "fit as a fiddle."
"Something very strange has happened and I want to know what," Edwards said. "I've sent rabbits all around the world and nothing like this has happened before." Edwards was sending Simon to a buyer in the U.S., who, she said, was famous, and, now, "upset."
United Airlines said in a statement that it was "saddened to hear this news. The safety and wellbeing of all the animals that travel with us is of the utmost importance to United Airlines and our PetSafe team." The carrier is reviewing the incident.
Simon, before his death, was destined to become the world's biggest rabbit, likely besting his dad, Darius, who held the record and stretched to the size of a large child, at four-feet-four-inches.