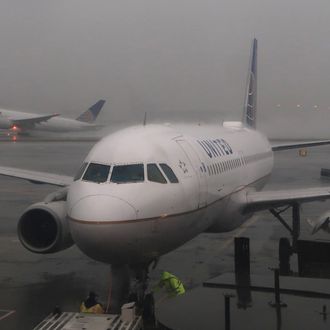 United.
Photo: Gary Hershorn/Getty Images
United Airlines has settled with 69-year-old passenger David Dao, who was forcibly dragged off a plane after he had been bumped from an overbooked flight. The airline and Dao reached an "amicable settlement" for an undisclosed sum, reports NBC News.
The news of the settlement came shortly after United Airlines announced ten policy changes in response to the incident, which went viral after fellow passengers filmed the confrontation between police and Dao. The footage showed him being pulled from the plane, his face bloodied. The situation was made worse by United Airlines' initial statement, which failed to address the passenger's aggressive removal from the flight. (The United CEO issued an amended apology more than 24 hours later, taking "full responsibility" and promising this review.)
"We can never apologize enough for what occurred and for our initial response that followed," United Airlines says in its report about the April 9 incident. "United Airlines takes full responsibility for what happened."
The big changes United Airlines put forward include significantly upping the compensation to a maximum of $10,000 in travel vouchers — though incentives will still start in the hundreds of dollars — for passengers who get bumped from overbooked flights, and no longer forcing passengers who have already boarded to give up their seat unless there's a "safety or security risk." United Airlines has also said it will come up with an automated system to solicit volunteers who are willing or able to adjust their travel itinerary to help avoid last-minute scrambles.
Dao — and four other passengers — were ousted to free up seats for United Airlines crew members; after the review, the carrier reiterated that it will bar this practice less than an hour before departure. United Airlines is also calling for better training for employees, and for limiting its use of law enforcement in booking issues. United Airlines will also try to reduce overbooking altogether and to create a team to accommodate passengers on overbooked flights by finding alternatives, such as ground transportation.
There's also one more customer-friendly policy adjustment unrelated to Dao and overbooked flights involving compensation for permanently lost luggage. United will now pay fliers $1,500 for lost baggage, no questions asked, says the New York Times, though passengers can still file larger claims.
Some of these recommendations United had previously announced, and others, such as employee retraining, will be rolling out later this year. United CEO Oscar Munoz also sent a letter about the Dao incident and United's response in reply to questions from a Senate panel, after some lawmakers and their constituents called for an investigation.
"Our review shows that many things went wrong that day," Munoz said in a statement. "Our policies got in the way of our values and procedures interfered in doing what's right."
This post has been updated throughout.