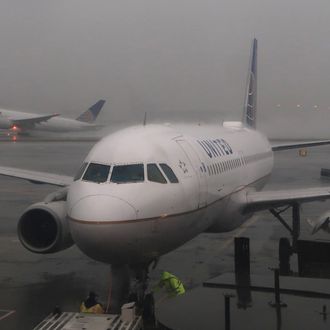 Photo: Gary Hershorn/Getty Images
The fallout continues for United Airlines after a video surfaced that shows a passenger being pulled from his seat and dragged from the plane after the airline apparently overbooked flight 3411 from Chicago to Louisville, Kentucky. Other disturbing videos posted on social media picture the distraught passenger — who has now been identified as Kentucky doctor David Dao — with a bloodied face and glasses askew, muttering over and over, "Just kill me."
United Airlines CEO Oscar Munoz issued a statement that called the incident "upsetting" and apologized for having to "reaccommodate customers," but did not explicitly address the forcible removal of a 69-year-old man, who was heard saying that he was a doctor who needed to get back to Louisville to see patients.
But Munoz took a different tone in an email to employees obtained by CNBC. He described the passenger as "disruptive and belligerent," writing that every time crew members had approached the man about getting off the flight, he had "raised his voice and refused to comply." Munoz explained:
Crew members "were left with no choice but to call Chicago Aviation Security Officers to assist in removing the customer from the flight," Munoz wrote, and at one point the passenger "continued to resist — running back onto the aircraft in defiance of both our crew and security officials."
Munoz said that employees "followed established procedures for dealing with situations like this. While I deeply regret this situation arose, I also emphatically stand behind all of you, and I want to commend you for continuing to go above and beyond to ensure we fly right."
A petition is circulating calling for Munoz's ouster. Social media has also duly noted that the United Airlines CEO was recently named "Communicator of the Year" by PR Week.
Chicago police confirmed that the man was "irate" after being asked to give up his seat. (United Airlines reportedly needed to give the seats to its own crew members; they had promised perks, including a flight voucher.) Police said that as they tried to remove the man, he fell — so they carried him, which is how he hit his head on his armrest and bloodied his face.
However, at least one Chicago aviation security officer has been put on leave pending review of the incident, reports the Guardian, and the United States Department of Transportation is also investigating it.
The video has also blown up on Chinese social media. Dao was reportedly overhead saying that he was being profiled because he was Chinese, and millions have viewed the plane video on Weibo, making it the top trending topic on one of China's big social-media sites. The video dominated headlines across Chinese media, including the Communist Party's outlet, which is calling the incident racist and leveraging it as anti-American propaganda.
According to CNN, many Chinese viewers were calling for a boycott of United Airlines, which does significant business in China.
Meanwhile, United Airlines' shares fell sharply on Tuesday as the video spread internationally.
After United Airlines lost nearly $600 million in value Tuesday, Munoz sent out an apology do-over. In a statement, the CEO said the carrier takes "full responsibility" for the incident, and that it apologizes to the passenger removed and all the people onboard the flight. "No one should ever be mistreated this way," he said, adding that the company will conduct a full review and issue the results by the end of the month.
This PR crisis piles on top of United Airlines' earlier flub last month, when the carrier blocked two girls from boarding because they were wearing leggings, which violated the company's dress code for United employees and their dependents.
This post has been updated.