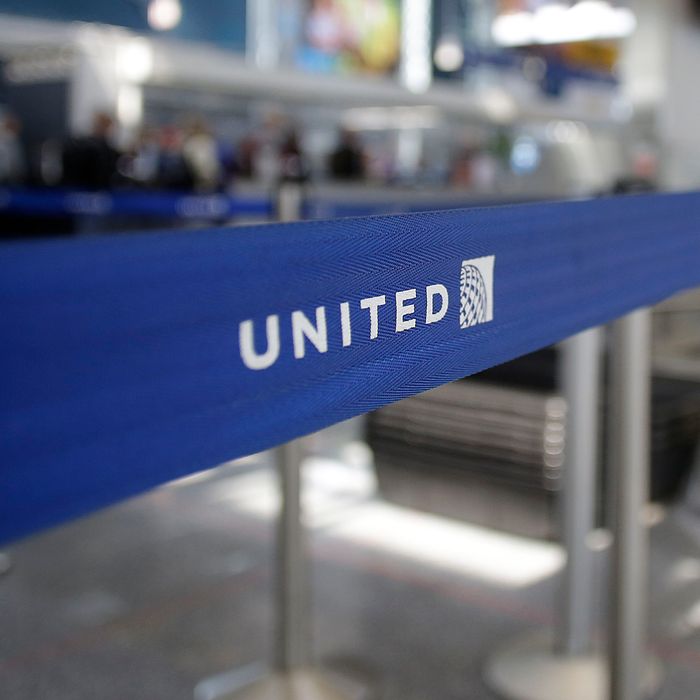 A United check-in area in Chicago.
Photo: Joshua Lott/AFP/Getty Images
United Airlines has confirmed that it has changed its company policy regarding the displacement of boarded passengers. The new policy states that no United employee can travel on a flight if their seat has not been booked one hour before the flight. In other words, employees will only be able to bump passengers with paid tickets before boarding for a flight has begun, thus eliminating the possibility that United will ever be able to remove a paid passenger from a plane in favor of an employee.
"No must ride crew member can displace a customer who has boarded an aircraft," United's internal memo said on Friday. The airline has also raised the amount of money that supervisors can offer to compensate displaced passengers, from $1,350 to $10,000, and announced that it will no longer ask law-enforcement officials to remove passengers from its planes unless they pose a security threat.
Of course, these changes follow the epic PR nightmare that United found itself in after the airline had security officers physically remove 69-year-old David Dao from a fully booked flight in Chicago one week ago. United randomly selecting him and three other passengers to lose their seats to United employees, but Dao refused to deplane. When officers then forcibly removed him, he suffered a concussion, broken nose, and lost two teeth before being dragged off the plane on his back. Video of Dao's treatment subsequently went viral and became an international scandal for the company that lasted all of last week.