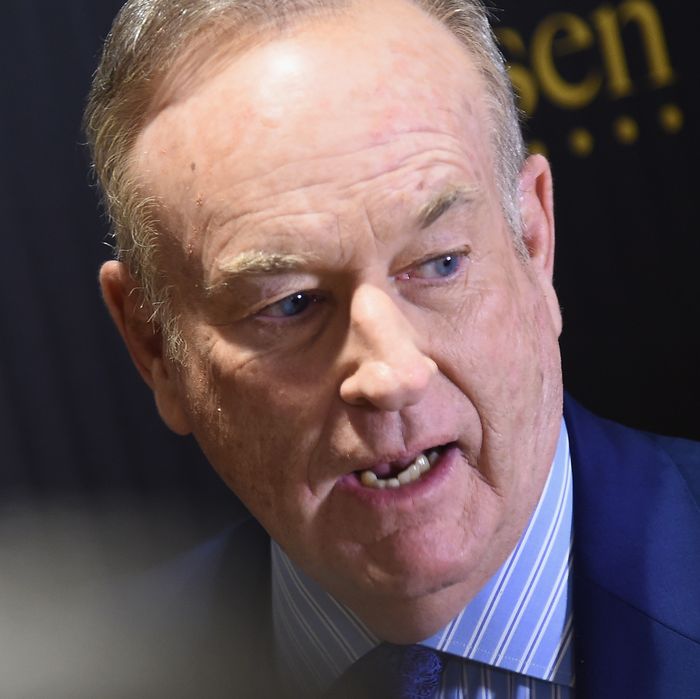 Photo: Ilya S. Savenok/Getty Images
Fox News and Bill O'Reilly have paid out around $13 million in settlements to five women who accused O'Reilly of sexual harassment or verbal abuse, the New York Times reports. The women, who all either worked for O'Reilly or appeared on his top-rated television program, "complained about a wide range of behavior, including verbal abuse, lewd comments, unwanted advances and phone calls in which it sounded as if Mr. O'Reilly was masturbating, according to documents and interviews," per the Times investigation. The women were given the payouts in exchange for agreeing not to pursue litigation or make their allegations public. Some of the settlements were completed in secret, and two happened after former Fox News chief Roger Ailes was dismissed following his own sexual harassment scandal last year. The earliest O'Reilly settlement happened in 2002.
21st Century Fox, Fox News's parent company, indicated in a statement to the Times that they are continuing to stand behind O'Reilly:
21st Century Fox takes matters of workplace behavior very seriously. Notwithstanding the fact that no current or former Fox News employee ever took advantage of the 21st Century Fox hotline to raise a concern about Bill O'Reilly, even anonymously, we have looked into these matters over the last few months and discussed them with Mr. O'Reilly. While he denies the merits of these claims, Mr. O'Reilly has resolved those he regarded as his personal responsibility. Mr. O'Reilly is fully committed to supporting our efforts to improve the environment for all our employees at Fox News.
But according to one Times source, Fox only learned of one of the settlements six years after it had happened while conducting last year's investigation into Roger Ailes's tenure at Fox News. The company then decided to settle with two additional women who had made sexual-harassment allegations against O'Reilly. The Wall Street Journal additionally reports that Fox also recently decided to renew O'Reilly's contract, which was due to expire this year, despite the settlements and allegations. The Journal also reports that with regards to who made the payments, O'Reilly paid $10 million while Fox paid $3 million.
O'Reilly released a statement in response to the report claiming that he pursued the settlements to avoid bad publicity and in order to protect his children:
Just like other prominent and controversial people. I'm vulnerable to lawsuits from individuals who want me to pay them to avoid negative publicity. In my more than 20 years at Fox News Channel, no one has ever filed a complaint about me with the Human Resources Department, even on the anonymous hotline. But most importantly, I'm a father who cares deeply for my children and who would do anything to avoid hurting them in any way. And so I have put to rest any controversies to spare my children. The worst part of my job is being a target for those who would harm me and my employer, the Fox News Channel. Those of us in the arena are constantly at risk, as are our families and children. My primary efforts will continue to be to put forth an honest TV program and to protect those close to me.
His lawyer also says they are "seriously considering legal action to defend Mr. O'Reilly's reputation."
According to the report, the five women who made the allegations against O'Reilly and received settlements were Rachel Witlieb Bernstein, a junior Fox News producer; Andrea Mackris, an O'Reilly Factor producer; Rebecca Gomez Diamond, a Fox Business Network host; Laurie Dhue, a Fox News anchor; and Juliet Huddy, an on-air Fox News personality who regularly appeared on O'Reilly's show. Only two of the settlements had been previously acknowledged. In addition, another two women have publicly accused O'Reilly of harassment: Wendy Walsh, a former guest on The O'Reilly Factor, and Andrea Tantaros, a former Fox News host. Tantaros filed a lawsuit against Fox News and Roger Ailes, but not O'Reilly, last summer.
Fox News is already facing an investigation by federal prosecutors looking into whether or not the company broke the law by not sufficiently disclosing payments made to settle harassment claims.
This post has been updated to include the Wall Street Journal's additional reporting.