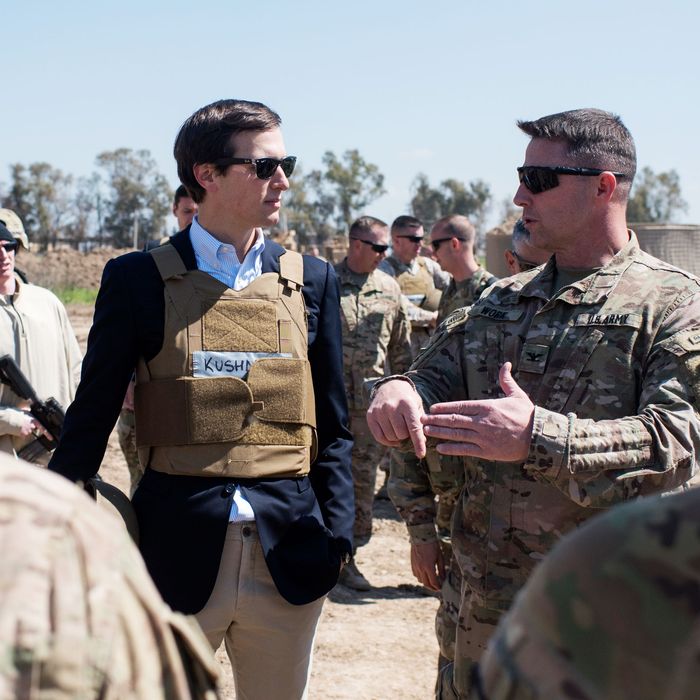 The leader of the free world?
Photo: Dominique A. Pineiro/Department of Defence via Getty Images
There may be no better testament to the insanity of our epoch than this: Last week, a series of reports suggested that the president's 36-year-old son-in-law, a real-estate heir with no experience in government or public policy, who had never detailed his political views to voters or stood for an election, was consolidating his power inside the White House — and most greeted this news as a welcome relief, because it meant that the former chairman of a (soft-core) white nationalist website was less likely to sabotage the European Union, the United Nations, and every other institution of the postwar, liberal order.
If America has to have an absurdly unqualified, unelected shadow president, it's probably better to have Jared Kushner in that role than Steve Bannon. But it's still a little scary — and a lot weird — that Kushner has as much power as he does.
As of last week, Ivanka Trump's husband was tasked with overseeing the rewriting of America's trade agreements; solving the Israel-Palestine conflict; developing a geopolitical strategy for the broader Middle East; ending the opioid epidemic; modernizing "the technology and data infrastructure" of every federal agency; remodeling the government's workforce-training programs; and "developing 'transformative projects' under the banner of Trump's $1 trillion infrastructure plan, such as providing broadband internet service to every American."
And now, the Washington Free Beacon reports that Kushner has also become the unofficial head of the National Security Council:
Kushner has taken aggressive action to micro-manage the NSC, overshadowing even recently installed National Security Adviser H.R. McMaster, according to sources both inside and outside the White House who described Kushner's behavior as highly unusual and damaging to the country's national security infrastructure.

…Sources who spoke to the Free Beacon described wide-ranging frustration at the NSC over Kushner's influence over some of the most important foreign policy portfolios, such as Iraq, Israel, Mexico, Saudi Arabia, and China, among others.

Senior NSC staff are finding their hands tied when it comes to performing even perfunctory duties, such as talking points and statements on high profile issues that must go through Kushner for approval.

…The installation of Dina Powell, a confidant of Kushner's wife Ivanka, to the NSC is said to have been orchestrated by Kushner in order to solidify his power over the foreign policy organization, sources said.

…"Jared has been pegged as the 'shadow secretary of state,'" said the White House official. "But in a way he's kind of also the shadow national security adviser and secretary of defense."
This report comes in the wake of Bannon's eviction from the NSC principals committee, and amid growing murmurs that the Breitbart mastermind might soon be returning to the private sector. Given that context, it's possible that the Free Beacon's story reveals less about Kushner's actual role than it does about the bitterness of the White House's Bannonites. Especially since a couple paragraphs in the piece read like blatant attempts to drive a wedge between Kushner and McMaster:
Kushner, in many ways, has even overshadowed McMaster, who sources described as seeking to avoid infighting in the White House. This has only minimized his power on the NSC, officials said.

On the other hand, Bannon's team is said to be more respectful and willing to defer to the organization as West Wing staffers have traditionally done under past administrations.
Nonetheless, even if these leakers are exaggerating the degree of Kushner's micromanagement, it's clear that he's one of the most powerful people in our government, and has an avid interest in shaping America's foreign policy. And we know almost nothing about how he sees the world.
Say what you want about the tenets of Bannonism — at least, it's an ethos.